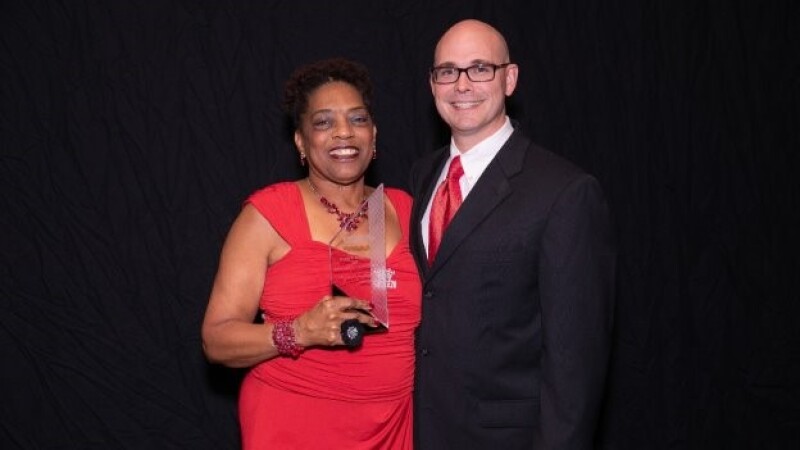 AARP Volunteers were awarded for their exemplary efforts at the 2019 All Volunteer Assembly (AVA). Devoted to honoring AARP Virginia's most dedicated volunteers, this year's AVA highlighted individuals committed to community service and helping everyone age with dignity and purpose.

The highly distinguished Andrus Award for Volunteer Service – AARP's most prestigious award -- was awarded to Priscilla Casey of Roanoke. Casey has been a member of AARP since 2002 and a member of the Southwest Roanoke AARP Chapter 4652 since 2004. She has been a member of the chapter board since 2005 and has served as president from 2006-2008 and from 2017 to the present. As chapter president, she has made as a top priority the goal of providing high quality and relevant programs affecting people age 50 and older.

In addition to all Casey does for and with AARP, she is deeply involved in other activities. She serves on the Local Office on Aging Advisory Board, is part of the Elder Justice Alliance, and works will Meals on Wheels and Soup for Seniors. She conducts Chronic Disease and Diabetes Self-Management workshops and she has recently become a master trainer of others to conduct those workshops. She participates in a reading program for underprivileged youth in Roanoke City Schools, and is a volunteer for the Blue Ridge Literacy program and is a basic literacy and English as a Second Language tutor.

AARP Virginia created a new award this year, the Shawna Newcombe Award for Fighting Hunger. The Shawna Newcombe Award for Fighting Hunger recognizes the extraordinary service of an individual or group in the fight against older adult hunger on behalf of AARP Virginia. This award honors and memorializes Shawna Newcombe's commitment to both empowering volunteers and putting food on the table for those who need it most. Newcombe, an AARP Virginia staff member, died suddenly early this year. The 2019 winner of the Shawna Newcombe Award for Fighting Hunger is Wahed Hossaini of Springfield. Hossaini has worked tirelessly to help feed hungry families in his community by spearheading food collection and fundraising efforts for food charities, particularly the End of Ramadan Food Drive initiative, which began in 2011. In conjunction with the Bangladesh Association of America, Inc., Hossaini was instrumental in the group's efforts. Earlier this year, the group collected over $7,000.00 and more than 150 pounds of canned and dry food, which was donate to The Ecumenical Community Helping Others (ECHO). Newcombe, who lived in Sandston, was very proud of Hossaini for his work fighting hunger.

The Community Partner of the Year Award recognizes an organization or agency that has made outstanding contributions to the work of AARP Virginia by collaborating with AARP volunteers and staff to enhance the quality of life for members of the community. The 2019 Community Partner of the Year Award winner is Culpeper Baptist Church, represented by Rev. Hans Murdock, Senior Adult Pastor. The church has collaborated with AARP Virginia this year on several initiatives, including hosting four Movies for Grownups Events, two Veterans Appreciation events, a Faith Leaders and Caregivers event, and hosting several planning committee meetings for the Aging Together Coalition. Culpeper Baptist Church has several multicultural ministries including a Korean service, a Spanish group and it has promoted the AARP Prepare to Care resource books to their ministries.

This year's President's Award for Community Service winners are Nancy Crespo of Manassas, Olivia Lawrence Dabney of Virginia Beach, and Jacqueline Robinson of Roanoke. The President's Awards for Community Service are given to deserving individuals or groups chosen at the discretion of the AARP State President, Carol Downs, to recognize the significant contributions they have made to the work of AARP Virginia over the last year.

The Gordon Morton Award for Volunteer Service is given to an AARP volunteer who has made outstanding contributions to the work of AARP consistent with the work modeled by Gordon Morton. This year's recipient is Marietta D'Ostilio of Fredericksburg. D'Ostilio has been a champion of providing for those suffering from nutrition insecurity via the annual food drive in the Fredericksburg area, and is the Chairperson for the Fredericksburg Chapter Food Drive as part of the AARP Virginia Statewide Food Drive. She is also a volunteer of the Senior Visitor's program, which pairs volunteers with seniors who are lonely and isolated. She serves as Co-president, co-chair of Programs and Public Relations Chairperson of Fredericksburg Chapter 3396. She plans monthly meetings, coordinates speakers, support community service projects. Additionally, D'Ostilio serves on the AARP Virginia Federal Advocacy team, regularly meeting with her member of Congress to brief him about issues important to older Virginians.

This year's Rookie of the Year Award recipient is Dr. Kenneth Beals of Staunton. In his first year of volunteering, Beals, a retired college professor and pastor, has given dozens of AARP Virginia presentations, focusing on brain health, healthy living, and downsizing and decluttering. He also started an AARP Supper Club in Staunton, where he is the only AARP Virginia speaker's bureau volunteer within 100 miles. He is often on the road, traveling to nearby communities to present the AARP workshops. The Rookie of the Year Award recognizes an individual AARP Virginia volunteer who has made outstanding contributions to the work of AARP Virginia in their first year of volunteer service to the organization.

The Chapter Service Awards are meant to recognize the education, advocacy, and service work of chapters that contribute to achieving the AARP mission by highlighting outcomes and impacts on their communities regardless of the chapters size or demographic. These awards give chapters the opportunity to highlight their countless hours of service work devoted to the enhancing the experience of aging. The recipient of the 2019 Chapter Service Award is Locust Grove Chapter 5239, represented by its president, Larry Eiben. The chapter members provide service to their community in numerous ways, most notably with Woods Cares. Woods Cares is a group of AARP Chapter 5239 volunteers who help individuals within Lake of the Woods and surrounding community who are shut-ins, caregivers of shut-ins or anyone in need for some other reason. They have been serving community members for more than 16 years. There are currently 12 Chapter 5239 members who have volunteered. Services provided have consisted of transporting seniors to doctor appointments, dialysis, grocery shopping, beauty appointments, or picking up prescriptions, groceries or other errands. Other helpful tasks have included simple plumbing repairs, small appliance repairs, picking up mail and transporting trash to the compactor. They also visit with shut-ins to give their caretakers a break.

To learn more about what AARP Virginia is doing in the community, visit our website, or follow us on Facebook and Twitter.