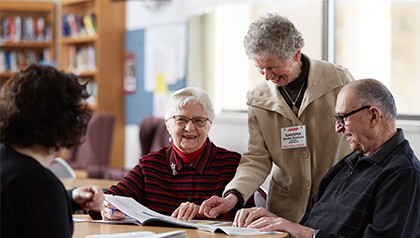 Ready to Make a Difference in Virginia?

For more than 30 years, AARP Driver Safety has helped drivers improve their driving skills and stay safe on the road. And we couldn't have done it without our volunteers. Nationwide, nearly 7,000 volunteers instruct, administer and promote the AARP Driver Safety course. AARP Driver Safety volunteers contribute to the safety and well-being of their neighbors and community.

Here in Virginia, we are seeking a highly qualified and motivated person to serve as the Virginia State Coordinator. This is an unpaid volunteer position.

DSP State Coordinator 9 5 14 requires both a commitment to the policies and direction of Driver Safety, and the ability to use effective leadership skills to advance the program at the state level. We are seeking a qualified volunteer leader with the ability and initiative to meet new challenges. The State Coordinator coaches, motivates and provides direction to ADS volunteers in the state and works with them to enhance the overall program locally.

The ideal candidate is someone who:

Thinks strategically;
Leads by example and is results oriented;
Provides leadership and guidance to other ADS volunteers; and
Builds strong working relationships and trusting partnerships.
The State Coordinator plays a key role, in partnership with the ADS Regional Coordinator in bringing ADS volunteers and AARP staff together to promote program growth. The Driver Safety National Office will provide the necessary resources to support this significant work in conjunction with the Regional Coordinator. This is an unpaid volunteer leadership position with many opportunities to represent this important AARP program and its volunteers.

If you or someone you know is interested in helping to advance AARP Driver Safety, please submit a completed AARP Smart Driver Leadership Application and resume to Vicki Jones at vjones@aarp.org. You will be notified if you are selected for an interview.


http://youtu.be/SfuW0M5xVWg[/youtube]



Interested in volunteering but not being the State Coordinator? We have many other volunteer positions available. Please complete our volunteer interest form and we'll be in touch!