AARP Blacksb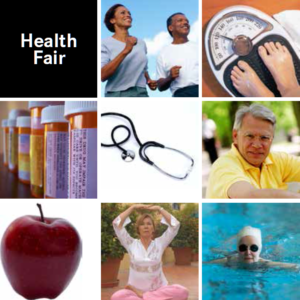 urg chapter and the Edward Via College of Osteopathic Medicine (VCOM) will conduct the 2016 Health and Wellness Fair on September 14th at the Christiansburg Recreation Center. You are invited to join the approximately 100 exhibitors and 500+ citizens expected to participate. This event will focus on citizen participation and healthy living. Successful aging is not just about medical conditions and their management, but about living a full and engaged life and how a community makes that possible.
The Health and Wellness Fair offers citizens of New River Valley a day filled with exhibitors presenting services and resources promoting a contemporary vision of aging. The AARP Blacksburg chapter has been leading in healthy aging activities with its LivingWell@50+ conference and the well-attended Disrupting Aging lecture by Bill Thomas. This upcoming event will continue that theme.
Non-invasive medical tests including blood pressure, vein, hearing, vision, and skin screenings will be held on-site.
These complimentary screenings will be offered with the goal of assisting community members to better manage health issues greatly affecting their ability to engage within families and communities.
Date:
September 14, 2016
Location:
Christiansburg Recreation Center
1600 North Franklin Street
Christiansburg, VA
Time:
12 Noon – 4:00 pm
Complimentary screenings and presentations onsite:

blood pressure
blood glucose
vein screening
skin screening
hearing testing
vision testing
live cooking demonstrations
seated Yoga
Qi Gong
Tai Chi
The 2016 Health and Wellness Fair is free to attend and no registration is required.