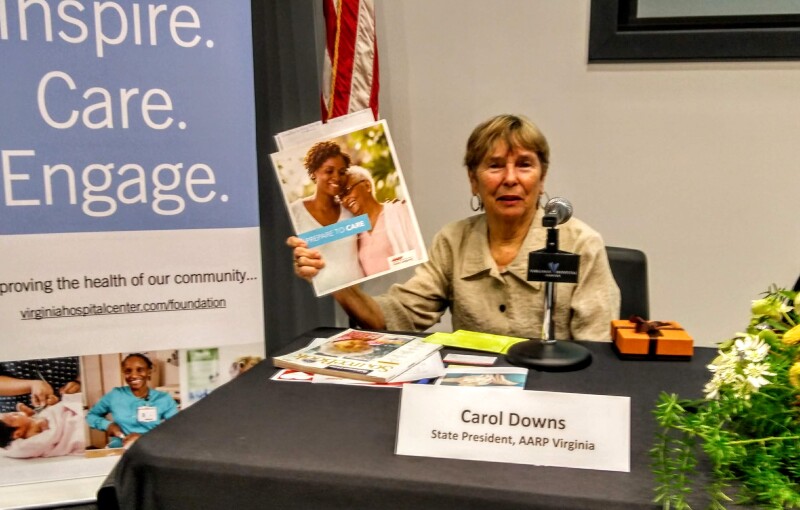 ARLINGTON – Adult children of aging parents should prepare for their care before a crisis occurs, and they should try to involve the older generation in the decision making.
That was the consensus of a panel of experts on Thursday, April 4 at a community forum on Caring for Aging Parents sponsored by the Virginia Hospital Center Foundation Women's Health Circle.
"I always say 'We're just a banana peel away from really having a problem,'" said AARP Virginia state president Carol Downs, one of the four panelist.
Often a fall leads to family members scrambling to figure out caregiving options for a loved one "when, if they had had a little bit more knowledge ahead of time, the outcome may have been a little different," Downs said.
While having a plan is useful, Downs said it must be flexible "because it's going to change."
One way to help make a plan is to use the AARP guidebook "Prepare to Care," she said, showing the book, which is also available online at www.aarp.org/preparetocare.
Panelists noted that a variety of local resources are usually available and suggested that caregivers or potential caregivers explore their options before a crisis. Michael DiGeronimo, director of the Arlington Adult Day Program, said most communities have a local Area Agency on Aging that can help caregivers find appropriate resources.
Downs also suggested the eldercare locator website, ( https://eldercare.acl.gov/Public/Index.aspx) a free service of the U.S. Administration on Aging.
Panelist Mariatu Koroma-Nelson, M.D., a geriatrician with the Virginia Hospital Center Physician Group, urged the audience of about 60 people to involve the older care recipient in making decisions about where to live as they age and what their goals are for quality living.
"What's important to the patient? What brings joy in their life? What makes them not want to keep going?" Koroma-Nelson asked. "How can you provide better dignity and … better quality of care?"
Koroma-Nelson warned that if the older parent is dissatisfied with the care they are receiving, that will put additional stress on the adult caregiving child.
In Arlington, DiGeronimo noted, groups such as Insight Memory Care offer a course where trained counselors help caregiver and care receiver work through the expectations of what care can be provided and what goals are attainable.
Because there are several types of living arrangements—ranging from independent living in a senior building to assisted living, nursing home care or memory care—making the decision on where an aging parent should live is difficult. Koroma-Nelson suggested that facilities that offer continuous care, in which a person could transition from one level of care to a higher level within the same compound are often a better choice than those dedicated to a single level of care. Downs warned that caregivers should carefully determine what services their loved one may need now and in the future and research what services are provided in a facility. She said that too often a decision is made based on proximity to the caregiver only to learn later that the facility doesn't provide the necessary services.
Downs urged adult caregivers to form a team such as siblings, friends and others who can help share the load in providing care. But she warned that the organizer of the team needs to be specific in delegating tasks such as taking Mom to the hairdressers once a month.
Regardless of an aging relative's condition, the panelists agreed that a healthy diet and regular exercise are the keys to an improved quality of life. Downs noted that movement and proper nourishment are two of the five pillars of brain health identified by AARP. The others are discover, relax and connect.
Because falls are a major problem for older people – particularly those over 85 –Koroma-Nelson suggested that balance programs such as tai chi can significantly reduce the risk of falling. She suggested exercises that stress flexibility, balance and endurance. Exercising roughly 45 minutes a day can also decrease the risk of cognitive decline, she said.
The panelists noted that even people who need assistance doing physical activities, or who are in a wheelchair, can still benefit from exercise programs that have been adapted to their needs. Downs said many older people find water exercises helpful.
Older people should eat green, leafy vegetables such as kale or spinach daily. A new diet that show promise for helping stem cognitive decline is the "Mind Diet," which is a combination of the Mediterranean Diet and the DASH Diet, Koroma-Nelson said, and emphasizes dark berries and green vegetables.
The panelists urged their audience to be aware of seemingly subtle changes in their parents' memory, which might indicate the onset of dementia. But they warned against a direct confrontation. Koroma-Nelson said caregivers should not rely on a primary care physician to spot signs of dementia in a quick physical examination. She said numerous factors need to be evaluated including the patient's medications, nutrition and mental attitude. – Larry Lipman