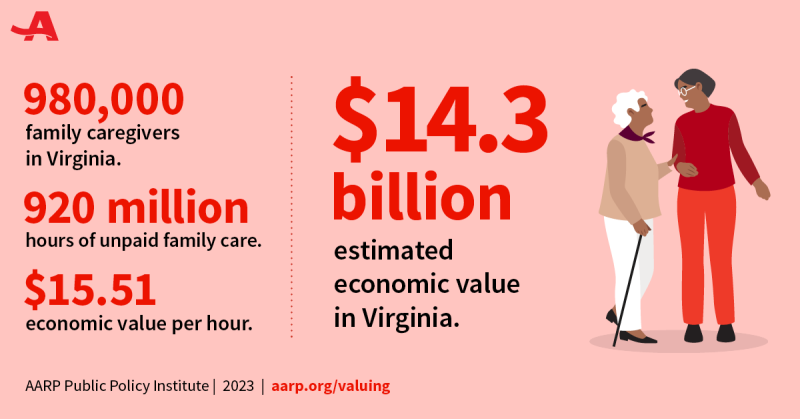 RICHMOND, Va. — In 2021 unpaid family caregivers in Virginia provided care that would otherwise cost $14.3 billion, according to new state data available in AARP's latest report in the Valuing the Invaluable series. This is a $3.1 billion increase in unpaid contributions since the last report was released in 2019.



The report highlights the growing scope and complexity of family caregiving and highlights actions needed to address the many challenges of caring for parents, spouses, and other loved ones.

"Family caregivers play a vital role in Virginia's health care system, whether they care for someone at home, coordinate home health care, or help care for someone who lives in a nursing home," said AARP Virginia State Director Jim Dau. "The care they provide is invaluable but it's also costly, in terms of their time, money and personal well-being."

Virginia's total Medicaid spending for fiscal year 2021 was about $16 billion. Medicaid is the federal/state program that provides health care coverage for low income Virginians and pays for long-term care coverage for more than half the state's nursing home residents.

"Virginia taxpayers owe the nearly 1 million family caregivers a debt of gratitude for their unpaid work keeping their loved ones out of nursing homes," Dau said.

AARP Virginia provides resources and support to family caregivers and the loved ones who depend on them for care. Trained volunteers provide online and in-person workshops for caregivers, including Prepare to Care. Groups can request speakers online at aarp.org/virginiaspeakers. To find scheduled virtual and in-person workshops and other programs of interest to people age 50-plus and their families, visit aarp.org/virginiaevents.

A directory of resources for Virginia caregivers is also available online, as well as downloadable booklets and guides, including AARP Family Caregiving Guides and Financial Workbook for Family Caregivers.

"Family caregivers deserve to have the financial, emotional and social support they need," said Dau, "because the care they provide is invaluable both to those receiving it and to their communities."

AARP Virginia is continuing its work to support family caregivers and the loved ones they care for. AARP helped lead the successful fight earlier this year to have Virginia's General Assembly create minimum hourly requirements for nursing home staff to better care for our most vulnerable Virginians. AARP will work with the governor's administration and General Assembly to further improve nursing home staffing standards.

In 2015 AARP Virginia successfully urged the General Assembly to pass the CARE Act, which requires hospitals to provide family caregivers instructions and demonstrations on medical tasks they need to perform at home after their family member is discharged.

Read the full report at aarp.org/valuing for national and state-by-state data on the economic value of unpaid care by family and friends.

Resources and information on family caregiving are available at aarp.org/caregiving.

With about 1 million members in Virginia, AARP is the largest organization working on behalf of people age 50-plus and their families in the Commonwealth. To learn how we are working in your community, visit us online at aarp.org/va, follow us on Facebook at @aarpvirginia and on Twitter @aarpva.

###

About AARP

AARP is the nation's largest nonprofit, nonpartisan organization dedicated to empowering people 50 and older to choose how they live as they age. With a nationwide presence and nearly 38 million members, AARP strengthens communities and advocates for what matters most to families: health security, financial stability and personal fulfillment. AARP also produces the nation's largest circulation publications: AARP The Magazine and AARP Bulletin. To learn more, visit www.aarp.org or follow @AARP and @AARPadvocates on social media.