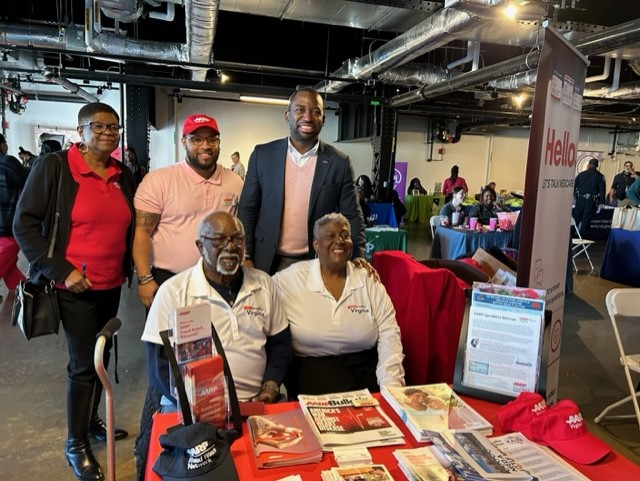 The Richmond Office of Aging & Disabilities partnered with seventh district City Council Member, Cynthia Newbille, to host a Valentine's Day luncheon at Main Street Station in Richmond-- For the Love of Seniors. This was the ninth annual senior celebration and resource fair.

Approximately 150 people, age 55 and older, who reside in the seventh district were invited to attend the event. Forty-nine vendors and state agencies who sell or provide referrals for housing, social services, medical supplies, assisted living options, health and life insurance, and ambulance services also participated in the event.

Newbille spoke to the seniors honoring and celebrating their roles as change agents, advocates, civic and community leaders, champions and trailblazers.

Greetings were delivered by Del. Delores McQuinn (D) and Mayor Levar Stoney (D). Members of the Richmond Office of Aging and Disabilities, police department, department of health and the school board delivered words of praise and thanks as well.

One participant, Harriet Stanton, described the event as "a chance to become better informed about what's available to seniors."

Vendors and the various state agencies provided literature and promotional items, such as cups, pens, bags, keychains, etc., to inform participants about how and where to obtain adult services, adult protective services, behavioral health, independent living options, medical centers, emergency communications and energy assistance programs and personal safety.

This was an opportunity to talk to vendor representatives face-to-face. Music was provided by a DJ and many took the opportunity to get out on the floor to show off their dance moves. Finally, there was a local comedian—Micah "Bam Bam" White--who kept the crowd laughing.

It was an uplifting and successful gathering that provided area leaders an opportunity to honor and recognize local citizens for their contributions in making Richmond a better place to live, work, learn, visit and raise a family.