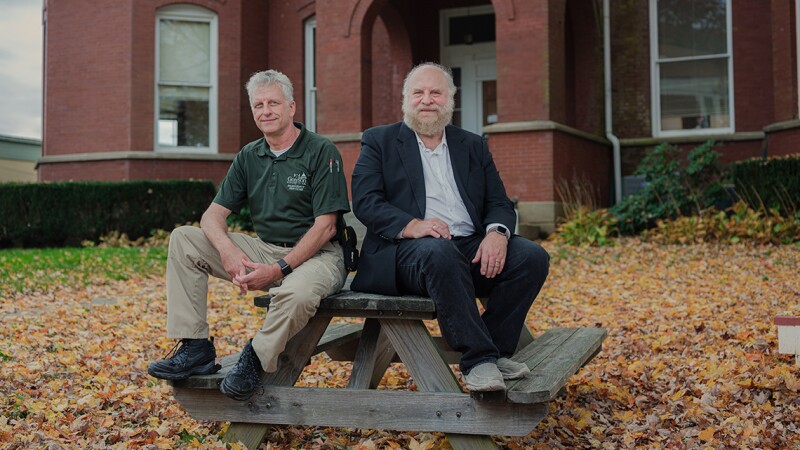 As the novel coronavirus descended, citizens increased their calls to Grayson County government offices, seeking information and reassurance.

County officials foresaw a need for help. Emergency Services Coordinator Paul Hoyle, a retired Portsmouth firefighter, knew that telephone helplines worked well in emergencies and proposed one for Grayson.

"It's a pretty basic need for citizens to be able to communicate with their government," he said.

County Administrator Bill Shepley approved, and IT Director Carl Caudill found a telecommunications program that would direct calls to the cellphones or other devices of volunteers.

Kathy Cole, 70, of Grayson, rounded up others to answer the nonemergency calls. After the service was up and running, county officials realized they might qualify for an AARP Community Challenge grant.

They were awarded $900 to operate the helpline through the end of the year. The project was one of four grants awarded in Virginia this year. AARP funded over $2.4 million to 184 quick-action projects nationwide.

"It's an opportunity to do something in a community to build momentum that members will get excited about," said Jessie Chambers, AARP Virginia program specialist.

Other Virginia grants were $21,000 to housing assistance nonprofit CFH Inc., to provide telehealth kits to residents in Fairfax County senior apartments; $19,000 to the town of Warrenton, for a garden commemorating a civil rights activist; and $16,820 to the nonprofit Sports Backers, an organization that encourages fitness, for street murals in Richmond.

Telehealth Kits

CFH Inc., prompted by COVID-19 shutdowns, sought a grant for kits to help older adults in low-income apartments monitor their health.

The kits include a blood pressure monitor and a thermometer, as well as instructions in the patient's language. The pandemic has focused attention on the challenge of helping low-income older adults manage chronic conditions, said Melanie Bush, CFH's associate director. "They are fighting to stay independent," she said. "Prevention is one of the ways to help."

CFH hopes that helping residents manage their chronic conditions will lead to greater interactions among them, their families and their health care providers, Bush said.

The grant to Warrenton is for a garden to honor the memory of local civil rights activist Eva Walker. The space, with a bench and interpretive panels, is in a park that bears her name on the edge of a community where Walker once lived, said Suzanne Garneau, the town's marketing coordinator.

Sports Backers and its partners chose intersections in Southside Richmond for murals that are designed to draw drivers' attention to the fact that they are in a busy intersection with bicycles and pedestrians, said Louise Lockett Gordon, director of its Bike Walk RVA program.

Sports Backers and community groups have been working with city officials to create more permanent safety measures for walkers and cyclists.

View the nationwide list of 2020 AARP Community Challenge grant recipients at aarp.org/communitychallenge.

More on Livable Communities

What Is a Livable Community?
Sue Lindsey is a writer living in Roanoke