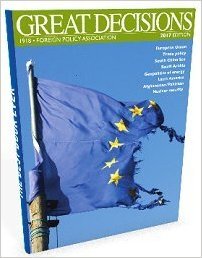 The Montgomery County League of Women Voters and the Lifelong Learning Institute at Virginia Tech invite the public to participate in Great Decisions, an annual eight-week nonpartisan community discussion on international affairs. This award-winning program, using materials prepared by the Foreign Policy Association, is in its 63rd year and is presented in many locations nationwide.

Great Decisions begins Wednesday, February 8, 2017, from 11:00 am to 12:30 pm and will continue for eight consecutive Wednesdays. Sessions will be held at the German Club Manor on Southgate Drive in Blacksburg.
Discussion topics for the 2017 program include:

The Future of Europe
Trade and Politics
Conflict in the South China Sea
Saudi Arabia in Transition
US Foreign Policy and Petroleum
Latin America's Political Pendulum
Prospects for Afghanistan and Pakistan
Nuclear Security
Great Decisions helps you make sense of these complex topics and rapidly changing events. Read a short essay from a briefing book and view a video prepared by the Foreign Policy Association, then join a discussion with community members facilitated by a local expert, usually a faculty member.
Great Decisions is one of 20 courses offered by the Lifelong Learning Institute (LLI) in Spring 2017. Course participants will be required to become LLI members ($35), but there is no course fee for Great Decisions, in recognition of the partnership with the League of Women Voters. The Great Decisions briefing book may be purchased for $25 from Volume II bookstore. A copy will be on reserve in the Blacksburg library for in-library use. A Kindle version is available from Amazon.
Register for Great Decisions and all other LLI programs at the LLI website: www.cpe.vt.edu/lifelonglearning. If you need registration assistance, please email or call Leah Coffman, LLI Registrar, 540-231-4364 (direct line) or 540-231-5182. Course number is 568683L