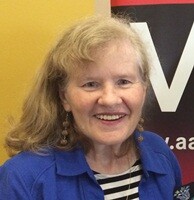 Congratulations to Jane King on being the recipient of the Annie B. Rose Lifetime Achievement Award, an Alexandria Commission on Aging 2015 Excellence in Aging Award.

The purpose of the Annie B. Rose Lifetime Achievement Award is to identify for community recognition an individual whose exemplary achievements span a lifetime of public service, and whose achievements have been devoted to significantly enhancing the community, especially to advancing social justice and aging concerns, for all citizens; in doing so, to honor the superior example of Annie B. Rose for a lifetime of outstanding service. An individual who presents evidence of not fewer than ten years of service advancing social justice and aging issues within the Alexandria community and who has not previously won this award is eligible.

Jane King is certainly that individual. She has been an effective advocate and strong leader in many of her volunteer roles. For four years, she served as Chair of the City Alexandria's Commission on Aging. Her incredible efforts in spearheading the Alexandria Strategic Plan on Aging is but one of her many accomplishments as an advocate for older Alexandrians. The Commission on Aging has flourished as a result of her governance and fellow commissioners express their gratitude for her foresight and leadership.

She serves on AARP Virginia's State and Federal Advocacy Teams, she is co-chair of the Northern Virginia Aging Network's (NVAN) Legislative Committee, and Vice Chair of At Home in Alexandria. Fellow advocates and colleagues describe Jane as "brilliant, patient, articulate, kind, committed, positively persistent, diplomatic, and pragmatic."

In one of her many AARP volunteer roles, Jane has presented the AARP HomeFit workshop at countless community forums, in conjunction with many other community partners. Jane's presentation style is open and welcoming. She engages the audience in the discussion by encouraging and answering specific questions about how individuals can make their homes more age-friendly. She has presented to hundreds of individuals in Northern Virginia, furthering AARP's mission to help older adults remain in the community of their choice.

The Awards Ceremony will be Tuesday, May 12 at 6:00 p.m. in the Vola Lawson Lobby of City Hall. Mayor Euille will be presenting the Awards. Light refreshments will be served. All are welcome!