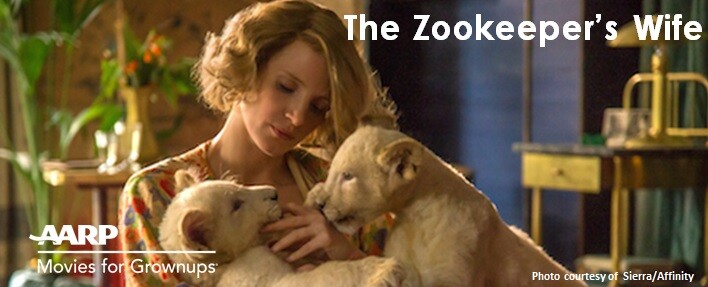 Join AARP Virginia for a free screening of The Zookeeper's Wife starring Jessica Chastain!
In 1939 Poland, working wife and mother Antonina Żabińska (Chastain) became a hero to hundreds. Antonina and her husband Jan (Heldenbergh) care for animals at the Warsaw Zoo and have raised a family in an idyllic existence. Their world is overturned when the country is invaded by the Germans and they are forced to report to the Reich's newly appointed zoologist. To fight back on their own terms, the Żabińskis risk everything by covertly working with the Resistance and using the Zoo's hidden passages to safeguard human life.
*This film is rated PG-13 for thematic elements, disturbing images, violence, brief sexuality, nudity and smoking

The Zookeeper's WifeThursday, July 20, 2017 at 10:00 a.m. – noonGrandin Theatre: 1310 Grandin Rd SW Roanoke, VA 24015
R SVP for Tickets Today: Call 1-844-418-2281 or go to http://aarp.cvent.com/ZooRoanoke

About Movies for Grownups®
AARP's Movies for Grownups celebrates and encourages
films with unique appeal to audiences with a grownup state of mind—and recognizes the inspiring artists who make them.
With weekly news and reviews, nationwide screenings, and an annual awards event, AARP champions movies for grownups,
by grownups. For more info, visit Movies for Grownups online.