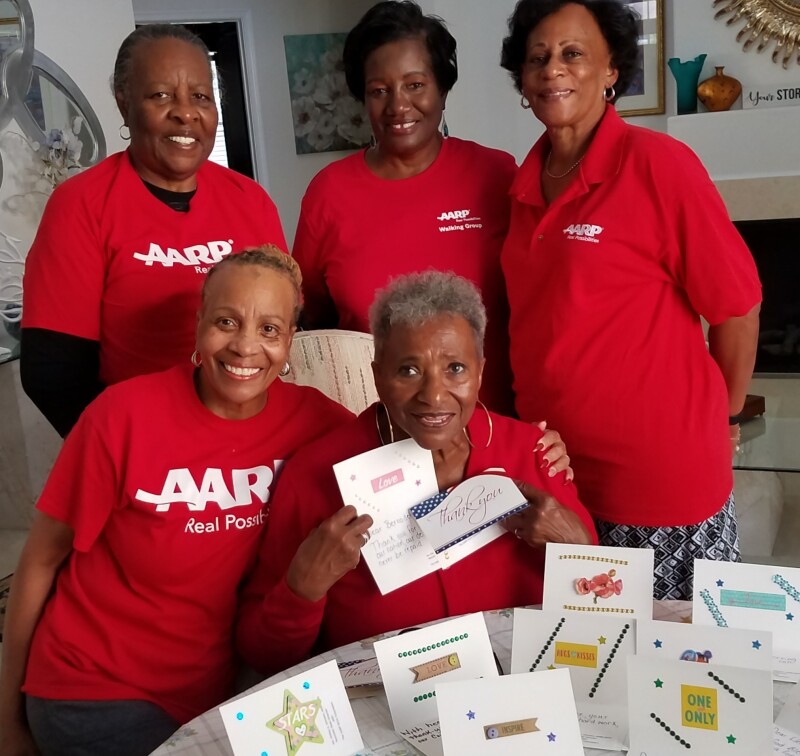 Mattie Lawrence Johnson of Chesapeake, Va., can be found these days comforting anxious families in a hospital waiting room, or listening to families caring for relatives with Alzheimer's disease. Or she's preparing holiday cards for veterans or working with girls on community service projects.

Volunteering is Johnson's passion, and her wide-ranging efforts to help others earned her AARP Virginia's 2021 Andrus Award for Community Service. This prestigious honor is given to a community-minded person 50-plus who most exemplifies the motto of AARP's founder, Dr. Ethel Percy Andrus: "To serve, not to be served."

For more than three years, Johnson has volunteered in the surgical waiting room at Sentara Princess Anne Hospital in Virginia Beach. She welcomes family members, helps them keep track of their loved ones' progress and escorts them to the recovery room. "I love doing that," Johnson said. "I love moving and interacting to help get the families through."

Johnson's strong family inspired her dedication to service. She and her twin sister, Frances, were the youngest of eight children. They were raised by their father, Russell Lawrence, after their mother died when the twins were two.

One of the first Black police officers in Virginia Beach, her father urged his children "always to love each other and be there for each other." He also told them, "It doesn't hurt to be kind or nice to somebody."

Because Johnson's father died of Alzheimer's, she knows first-hand the pain and struggles facing men and women who care for a loved one with the disease. Once a month she helps lead an Alzheimer's Caregivers Support Group in Chesapeake.

"We sit around a table. Each person talks about what's up and how they're dealing with it. We don't give advice; we listen," said Johnson, who provides information about resources. "People who've lost a loved one often remain in the group as they go through the grieving process."

After her husband Ralph had a severe heart attack in 2015, and her twin died in 2016, Johnson retired from a career in property management. Blessed with "deep faith and a happy family," and encouraged by her husband, she has devoted her time and energy to community work.

Johnson teams up with other AARP volunteers on a variety of projects. To cheer veterans, they make holiday cards distributed through service organizations in southeast Virginia. Johnson also supports AARP Virginia's state advocacy efforts, participates in environmental cleanups and mentors young people in service projects.

She worked with the Zeta Phi Beta national sorority to involve young girls in preparing and serving breakfast for parents of hospitalized children while they lived temporarily at the Ronald McDonald House in Norfolk. "I love working with youth. It's important to stay positive with them and encourage them to make a difference," she said.

Johnson has a strong message for would-be volunteers: everyone has skills and talents to share with others, and the benefits are worth it.

"Set a standard for yourself," she advised. "Think what you want to do in life and set that goal. The greatest service in life is to serve and give back. If you do that, everything else is going to fall in place for you."

AARP Virginia will present the Andrus Award to Johnson at a ceremony in April 2022. AARP Virginia will also make a $250 donation to St. Jude Children's Research Hospital and a $250 donation to The Food Bank of Southeastern Virginia.

"This award acts as a symbol to the public that we can all work together for positive social change," said AARP Virginia State Director Jim Dau. "AARP has long valued the spirit of volunteerism and the important contributions volunteers make to their communities, neighbors, and the programs they serve."

Nationwide, recipients of state Andrus Awards for Community Service were chosen for their ability to enhance the lives of AARP members and prospective members, improve the community in which the work was performed, and inspire others to volunteer.