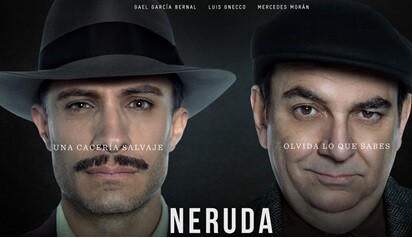 Please join AARP Virginia in the Movie Screening of NERUDA.

Beloved poet Pablo Neruda (Luis Gnecco) is also the most famous communist in post-WWII Chile. When the political tides shift, he is forced underground, with a perseverant police inspector (Gael Garcia Bernal) hot on his trail. Neruda cunningly plays with the inspector, leaving clues designed to make their game of cat-and-mouse ever more perilous. Meanwhile, in Europe, the legend of the poet hounded by the policeman grows, and artists led by Pablo Picasso clamor for Neruda's freedom. In this story of persecuted poet and his obsessive adversary, Neruda recognizes his own heroic possibilities: a chance to become a symbol for liberty, as well as a literary legend.

This is the other new film by prolific Chilean filmmaker Pablo Larrain (Jackie). In Spanish with subtitles. (R, 107 minutes)

Don't miss out on a chance to join us at the free screening of Neruda!

Registration is required. Sign up Here or call 1-844-418-2281

When: Sunday, March 19, 2017
Time: 7:00 pm – 9:00 pm (doors open at 6:30 pm)
Where: Naro Cinema 1507 Colley Ave. Norfolk, VA 23517

AARP's Movies for Grownups celebrates and encourages films with unique appeal to audiences with a grownup state of mind—and recognizes the inspiring artists who make them. With weekly news and reviews, nationwide screenings, and an annual awards event, AARP champions movies for grownups, by grownups. For more info, visit Movies for Grownups online.