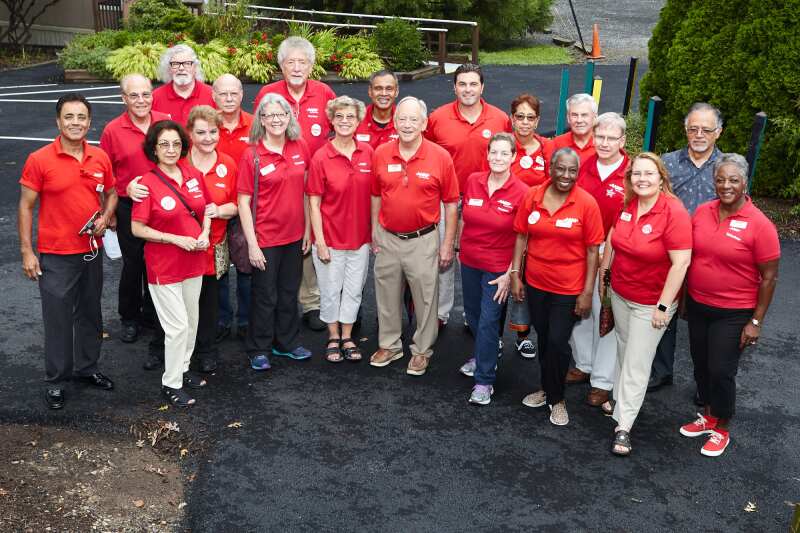 "I learned from the Brain Health presentation not to multi-task."
"I knew the percentages I've contributed to Social Security, but I didn't understand the income limits until today."
"I enjoyed all the interesting people I met."
"I got some useful tips from fellow attendees."
"I've just retired and Dr. Cabrera made me think."
"It helps you pause and reflect."
Learning, meeting new people, seeking meaning after retirement. These comments from attendees at AARP's "Boomers and Beyond Academy" echoed the three factors of a fulfilling retirement described by keynote speaker Dr. Beth Cabrera: experiencing personal growth through, for example, learning new things; establishing relationships with others; and making a contribution. AARP held the "Boomers and Beyond Academy" on September 8 at the Osher Lifelong Learning Institute at George Mason University in Fairfax, Virginia. Around 65 people attended the four-hour free program, which included coffee from Panera Bread, yogurt and cheeses from Cabot Cheese, and box lunches provided by Subway. The program was developed and staffed by more than 20 AARP volunteers.
Keynote Speech on Thriving in Retirement
Dr. Cabrera's keynote speech, "How to Thrive in Retirement," focused on how to find meaning during retirement, when family and career obligations have often decreased. Dr. Cabrera is a Senior Scholar at the Center for the Advancement of Well-Being at George Mason University.
Dr. Cabrera explained that well-being encompasses not only feeling good (experiencing frequent positive emotions), but also doing good (having a meaningful life). Experiencing personal growth through classes and other means, nurturing and cultivating relationships with others, and contributing to the greater good through, for example, volunteering all help create a sense that one's life is meaningful during retirement, she pointed out.
Dr. Cabrera encouraged attendees to explore new opportunities for contributing, through organizations such as AARP, social networks, and web sites like www.encore.org. Quoting country singer Darius Rucker, she asked: "When's the last time you did something for the first time?"
Concurrent Workshops
Concurrent workshops, most of which were presented by AARP volunteers, included: "The Five Pillars of Brain Health" by Suba Saty; "Long-Term Care: A Social and Family Challenge" by Pat Killeen; "Social Security: Understanding Your Benefit" by Ridge Multop; "Full Wellness: The Art of Aging" by Stacey Scrabis; "Protect Yourself from Fraud and Identity Theft" by Trudy Marotta; and "Medicare 101: Understanding Your Benefits" by Ridge Multop.
These and other AARP presentations are available to groups upon request, through AARP's network of volunteers in Northern Virginia. To request a presentation, submit your request online or contact AARP Virginia at aarpva@aarp.org or toll-free 1-866-542-8164 .
Click here to watch the Boomers and Beyond Academy video created by AARP Volunteer Paul Singh of Fairfax Station, VA.
This article was written by Jane Limprecht of Springfield, VA, AARP Volunteer. Photo by David Hayford of Kingstowne, VA, AARP Volunteer.
Interested in joining our volunteer team? Let us know by completing the volunteer interest form and we'll be in touch!
[gallery columns="4" link="file" ids="160305,160299,160302,160300,160301,160304,160306,160308,160309,160298,160310,160303,160307,160311,160312,160313,160314,160315,160316,160317,160318,160319,160321,160322,160323,160324,160325,160326,160328,160329,160331,160332,160334,160335,160336,160337,160338,160339,160340,160341,160342,160343,160344,160346,160347,160348"]