During its first six years, NV Rides—through its 15 partner organizations--provided roughly 40,000 free rides to older residents of Northern Virginia to places such as doctors' offices, grocery stores and beauty parlors.

Then came the covid-19 pandemic. The demand for rides and the number of volunteers dropped sharply. But only for a short time. Today, demand for transportation among older Northern Virginia residents who no longer drive or who have limited their driving is greater than ever, said Emily Braley, NV Rides manager.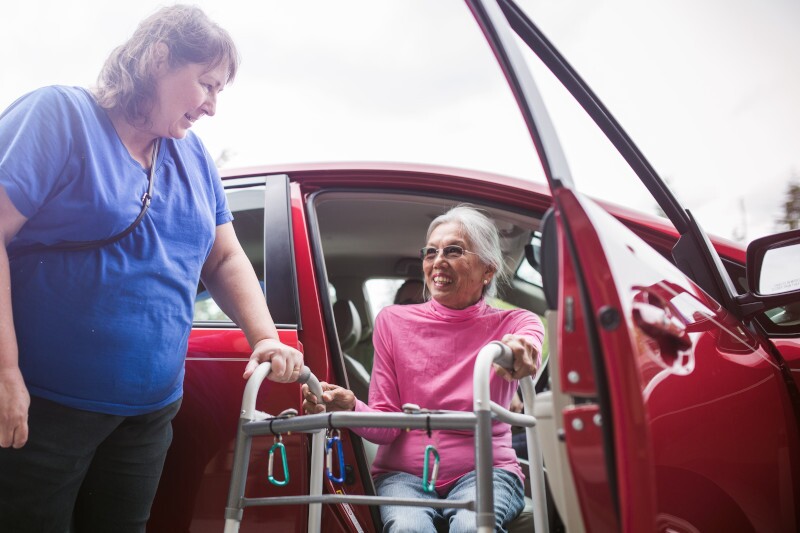 Last year, NV Rides' network of just over 500 drivers provided 20,377 rides, deliveries and visits to 926 seniors in the territory that includes Arlington, Fairfax, Loudoun and Prince William counties and the cities of Alexandria, Falls Church, Fairfax, Manassas and Manassas Park.

For its activities, NV Rides recently received the $5,000 first place Best Practices Award from the Commonwealth Council on Aging. The award recognizes organizations whose programs that help residents 60 and older, and those with limited disabilities, remain in their homes can be replicated in other parts of the state.

Braley said the award will be used to help NV Rides pay for background checks for all drivers. Any leftover funds would be used to help recruit more drivers.

"Our biggest need is for volunteers," Braley said. "Demand for our services is really high because we keep people aging in their homes and we provide, I would say, a really essential service to our clients. As the pandemic has eased up and more doctors offices are in person, and more people need to get out and about, demand is at an all-time high right now."

During the pandemic, the types of rides shifted significantly, Braley said. Before the outbreak, roughly 75 to 85 percent of rides were for medical appointments, such as doctor and dentist visits. But by December 2021, as many doctors provided consultations virtually, the portion of medical rides dropped to about 55 percent.

Meanwhile, rides to grocery stores and pharmacy pick-ups took up a larger share of the service. Recently, as more medical appointments are occurring in person, the proportion of medical rides is up to about three-fourths of all rides.

Earlier this year, NV Rides sent a survey to 1,051 riders. Results are still coming in, but Braley noted that about 90 percent of riders said the pandemic had not decreased their need for transportation services.

Because drivers do not commit to a specific schedule—they can provide one or more rides as week, a month or even a year, Braley said they do not have statistics on how many volunteers suspended their driving during the pandemic.

"We lost drivers, for sure, but the demand has not let up," Braley said.

Reengaging former drivers and recruiting new drivers is NV Rides' top priority now, she said. The ready availability of vaccinations has resulted in more drivers feeling comfortable about once again providing rides. But Braley said the driver force is probably still not back to where it was pre-pandemic. The organization is particularly looking for more drivers in the U. S. Route 1, Hybla Valley area down to Lorton.

"We know the clients are out there; they are in need," Braley said. "They are our friends and neighbors. These are people who live in your neighborhood, and this is something you can do in a small amount of time to really make a big difference."

NV Rides does not directly provide any rides. All drivers volunteer through one of the partner organizations, including: Agudas Achim Congregation; AHA!—At Home in Alexandria; Dar Al-Hijrah Islamic Center; Herndon Village Network; J Rides at Pozez JCC; Loudoun Volunteer Caregivers; Mount Vernon at Home; RCC Rides at Reston Community Center; Shepard's Center of Annandale-Springfield; Shepherd's Center of Fairfax-Burke; Shepherd's Center of McLean-Arlington-Falls Church; Shepherd's Center of Northern Virginia; Shepherd's Center of Western Fairfax County; Temple Rodef Shalom and the V.E.T.S.—Veteran Enhanced Transportation Service of Prince William County.

Each partner organization sets its own parameters for rides. For example, in Prince William County, V.E.T.S. only offers rides to veterans or veterans' spouses.

Each organization also sets its own policy on masks, although Braley noted that most drivers and riders wear a mask. Drivers must obey the mask policies of places they visit—most medical offices still require wearing a mask. NV Rides urges drivers to crack the window if the weather permits and suggests that riders sit in the back seat to increase the distance between driver and rider. Prior to the pandemic, riders usually occupied the front seat.

None of the drivers are paid or reimbursed for their travel expenses, but depending on the organization they drive for, their miles and gas may be a tax-deductible donation.

NV Rides serves as the umbrella for its partners. It provides free software to all of the partners and an online scheduling system that is shared with each organization, allowing them to send each driver a spreadsheet of upcoming requests for rides within their rough geographic area. Drivers decide which requested rides to take and how often they want to drive.

All drivers are vetted by NV Rides for criminal and driving records. NV Rides pays for the background checks, which cost $28 for a longtime Virginia resident, but may cost significantly more if a driver has lived in multiple states in the past seven years.

NV Rides also engages in recruiting new volunteer drivers by giving out information at community events, local farmers markets and other venues. It also serves as the liaison and advocacy arm for transportation needs for the elderly among government organizations in Northern Virginia and at the state capital.

NV Rides also serves as a clearinghouse for riders who don't know which partner organization they should contact when they need a ride. Riders can request a ride by calling NV Rides at 703-537-3071, usually with one week notice to allow the request to be referred to the partner organizations.

There is no income limitation for riders. Generally, they must be 60 or older or disabled, but NV Rides does not provide rides for those using a wheelchair or needing assistance walking. Riders must be able to speak and have intact cognition enough to communicate their request. Many of the volunteer drivers are bilingual.

Most rides are within the local area, but each organization sets its own limitations, if any, on distances.

Unlike a taxi or other ride service, drivers in the NV Rides network often stay with their riders once they reach a destination. For example, if a rider is going to a grocery store, the driver may also shop at the grocery store at the same time. Other times, drivers may accompany a rider into a doctor's waiting room (if allowed).

Many drivers and riders establish a bond and team up on subsequent rides, so the ride service helps relieve the isolation that many home-bound seniors endure.

Braley, a registered nurse, grew up in the Oakton area of Northern Virginia and worked for California Medicaid before returning to the area last fall.

Potential drivers can volunteer either directly with local partner organizations or through NV Rides, which then passes the person's contact information to a local organization. Volunteers can contact NV Rides at 703-537-3070 or 703-537-3071 or email info@nvrides.org.

NV Rides is supported with a grant from the Metropolitan Washington Council of Governments. Other organizations, including AARP Virginia and the Jewish Council on Aging in Maryland also provide support. The Jewish Council on Aging runs the partner program in Maryland called Village Rides.