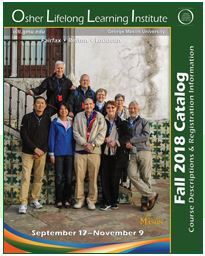 Osher Life Long Institute (OLLI) Fall 2018 Term in Northern Virginia September 17 - November 9, 2018


Priority Registration will open Tuesday, August 14 at 9:00 through Thursday, August 23 at noon. Registration continues until end of term.

The Osher Lifelong Learning Institute (OLLI) at George Mason University offers daytime courses, lectures, special events, and other activities during a eight-week fall program. There are no exams, no credits, no college degree required or offered, and no age threshold.

There are over 500 courses and activities offered each year. You can try OLLI by attending one or more free class sessions over a two week period. The introductory membership of one term is $150.00 and an annual membership fee is $425.00 for unlimited courses and special events at the Main Campus at George Mason University, Loundon Campus, and Reston Campus.

From Latin to archaeology, religion to science, there is a topic to suit every interest. View the Fall 2018 catalog for course details and registration information. To request a catalog to see the complete schedule of OLLI offerings for Fall 2018 call 703-503-3384 or email olli@gmu.edu.

Sessions offered by AARP:

BT1206 AARP Smart Driver ClassTuesday and Thursday, Sept. 11 and 13, 9:30–1:30OLLI main office on Tallwood Site – 4210 Roberts Rd., Fairfax, VA 22032Note: Class usually finishes early. Bring a snack.Instructor: David Hall
The goal of this class is to help senior drivers in Northern Virginia drive safely, longer. The class will review the senior driver as a demographic group, as well as the effects of aging. It will cover what one should know and do to drive safely, as well as automobile and driving strategies, technology, new laws, and trends. We will address the question: "Should I be thinking about limiting my driving?" The class will include video clips, infographics, lecture, personal experiences, and relevant Q&A. An AARP guidebook and the latest DMV Rules of the Road will be provided. This class is approved by the Virginia legislature, which mandates an appropriate auto insurance discount for three years after a completion certificate is presented to the insurance company. The class is $15 for AARP members and $20 for nonmembers and is payable at the class. Bring cash or check and your AARP card if you have one.

David Hall is an MIT graduate with a BSEE degree. He was with IBM for 30 years as an engineer and project manager on development of military, NASA, and commercial systems. He has taught project management at IBM World Trade Corporation and has conducted over 100 AARP senior driver classes over the last 12 years. His special interests are optical and cognitive functions as they relate to driving.

The Fall 2018 catalog lists courses, special events and ongoing activities at all three locations (Fairfax, Reston and NOVA-Loudoun). Fairfax courses are denoted by "F", Reston courses are denoted by "R", and Loudoun courses are denoted by "L". Register here.

Course leaders are qualified members of OLLI, Mason faculty, and others who enjoy sharing their knowledge. OLLI is particularly proud of its volunteer teachers and speakers, many of whom are well-known experts in their fields. The views expressed are those of the instructor and do not reflect the official policy or position of OLLI or George Mason University. Members pay annual dues and that entitles them to attend as many activities as they wish, subject to space availability. There may be charges for materials and for some special events. Memberships available year round.