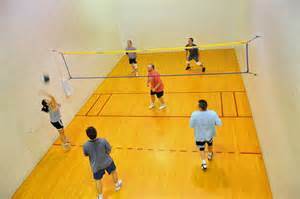 Play Wallyball - Find Joy! Retired couples and singles wanted to come join in the fun!

Wallyball is like volleyball but played in a racquetball court, where it is legal to hit the ball off of the walls. Playing with a beach ball in a racket ball court makes the game easy, friendly and fun. Play off the ceilings and walls. Meet others, laugh, and have a good time for a happy hour of exercise. No experience necessary.

Come by and watch the fun or ask to be added to the list of invitees. (Email notices are sent weekly via Evite of game location, dates, and times.) Contact Sally Unger at 703-242-2272 or email novawallyball@verizon.net.

When:
Tuesdays & Thursdays @ 9:30 am

Where: TWO locations
Providence Recreation Center
7525 Marc Drive
Falls Church, VA 22042

Spring Hill Recreation Center
1239 Spring Hill Road
McLean, VA 22102

Retired couples and singles are welcome!

Fairfax County charges an admission fee to the rec centers, but no additional fee is required to play.

For a little more information on the sport and some useful links, visit https://en.wikipedia.org/wiki/Wallyball.

This is not an AARP event or activity. Any information you provide will be governed by the host organization's privacy policies.