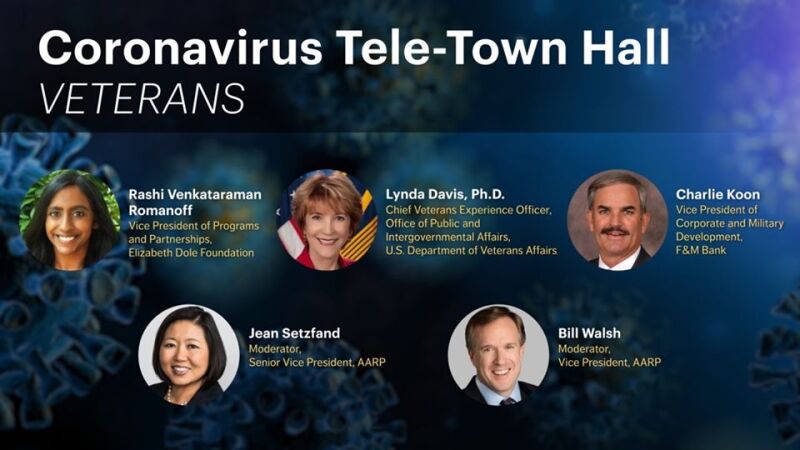 What are the best ways to reach U.S. Department of Veterans Affairs (VA) given office closings?

· WH/VA Hotline (24/7): 855-948-2311 or www.VA.gov

· VA 311 (COVID-19) Contact Center (24/7): 844-698-2311

· VA Quick Start Guide: www.VA.gov/Welcome-Kit

· VA Caregiving Support Line (8am-8pmET): 855-260-3274

· VA Crisis Line for Mental Health (24/7): 800-273-8255



What are the best resources to support Military & Veteran Caregivers?

· For AARP resources, visit www.AARP.org/Veterans and click "Supporting Military & Veteran Caregivers during COVID-19" FactSheet at: https://www.aarp.org/home-family/voices/veterans/info-2020/coronavirus-military-caregiver-tips.html and List of "Free Resources to Aid Veterans & Military Families Amid COVID-19": https://www.aarp.org/home-family/voices/veterans/info-2020/free-coronavirus-resources.html?intcmp=AE-HF-FFR-VC-VET-BB3 Other sites of interest: www.AARPcommunityconnections.org and www.AARP.org/coronavirus.

· For Elizabeth Dole Foundation (EDF) resources: Visit www.hiddenheroes.org to access the Foundation's Resource Directory and COVID-19 Resource Hub, join the Hidden Heroes Caregiver Community, learn more about the Caregiver Community Connection (C3) webinar series, and get involved with local caregiving networks through Hidden Heroes Cities & Counties Program. Any questions, email: info@elizabethdolefoundation.org.

· For VA Caregiving resources: www.caregiver.va.gov or VA Caregiver Support: 855-260-3274.



What is the best way to access VA care for Veterans and give them support during COVID-19?

· Access to telehealth services is the best way for Veterans and their families to connect to the VA's health system. To learn more, visit www.VA.gov, www.myhealth.va.gov, or call the VA's 311 (COVID) Hotline: 844-698-2311 or Office of Community Care: 877-881-7618.

· Access state Veterans services & benefits by reaching the National Association of State Directors of Veterans Affairs: www.nasdva.us or 608-358-6195.

· Also, check out your state and local Veterans Service Organizations (VSOs), like American Legion, Disabled American Veterans (DAV), Paralyzed Veterans of America (PVA), Veterans of Foreign Wars (VFW), Wounded Warrior Project (WWP), among others.



How can Veterans protect themselves from financial identity theft, scams and fraud?

· Always report scams, frauds, and suspicious inquiries about personal financial information to the VA Benefits Administration Hotline: 800-827-1000.

· Check out AARP's free Fraud Watch Network (FWN) & Operation Protect Veterans (OPV) program at: www.AARP.org/Veterans, www.AARP.org/FraudWatchNetwork, or call AARP's Fraud Watch Hotline: 877-908-3360.

· VA also has been working closely with the Consumer Financial Protection Bureau (CFPB) on identity theft and VA Benefits scams. Visit www.consumerfinance.gov/servicemembers or call CFPB Hotline: 855-411-2372.



How can Veterans and Military Families cope with rising bills and other personal finance concerns?

· Visit www.VA.gov for available VA resources or by calling WH/VA's Hotline: 855-948-2311.

· During COVID-19, the VA also has implemented programs to help with personal and health care debt, such as suspending collections and lowering interest rates and minimum payments. VA Loan Center Hotline: 800-827-0648 & Health Care Debt Relief: 888-827-4817.

· It's also highly recommended for families to talk to local bankers, credit unions, and financial advisors about other national/community resources available since there are too many to list.



What about workforce concerns and the pandemic's impact on Veterans and Military Families?

· Talk to your employer and Veteran networks in your community. They can provide support and more personalized professional information given your locality.

· U.S. Department of Labor Helpline (8am-8pmET): 866-487-2365.



How can we get my Veteran's hearing aids serviced during COVID-19?

· The best place to seek assistance is to call WH/VA Hotline: 844-698-2311.



Do Stimulus Payments have any direct impact on VA Benefits and amount that Veterans receive and how can Veterans receive their Stimulus Payments?

· No, they do not, and inquiries about Stimulus Payments should be directed to: www.IRS.gov.



What are transportation options to/from VA medical facilities, especially for those with disabilities?

· VA hospitals can arrange Veteran Transportation Services (VTS) for visually impaired, elderly, or immobile Veterans. Some VA hospitals also have ride share programs. Some VSOs, like DAV, also provide transportation shuttles to VA health facilities. Call VA 311 (COVID) Contact Center: 844-698-2311 or find your local DAV service office online at: www.DAV.org;

· VA is expanding all services with Veteran safety in mind. Face masks, facilities, and vehicle safety all are being monitored.



Any services available for telephone or internet service for those with low incomes?

· VA is working with telephone and internet providers to ensure access for VA telehealth and other services, especially during the pandemic. Call WH/VA Hotline (24/7): 855-948-2311;

· EDF also has a collaboration with telecommunications providers to help connect people online; visit COVID-19 Hidden Heroes Resource Hub at: www.HiddenHeroes.org/Coronavirus.



How can a Veteran get a case resolved with a claim submitted months ago?

· Veterans Benefits Administration Hotline: 800-827-1000

· Case Management Inquiries also can connect to WH/VA Hotline (24/7): 855-948-2311



Can Veteran Caregivers receive compensation for their work?

· Yes, some can qualify. The VA Program for Comprehensive Assistance for Family Caregivers offers stipends for Veterans needing assistance with Activities of Daily Living (ADLs). Call the VA Caregiving Support Line (8am-8pmET): 855-260-3274. Be sure to ask about all VA Benefits available, including respite care.



What are eligibility requirements for VA Dental Benefits and services available?

· VA Health Benefits and Dental Care eligibility is not related to income but to military service. The best way to find out if you qualify for Dental Coverage is to call either the VA Health Benefits Hotline: 877-222-VETS (8387) or My HealtheVet Help Desk: 877-327-0022.