It's fun, it's fast, it's a game of momentum—it's volleyball.

The Richmond Volleyball Club (RVC) recently hosted the 2023 Masters Classic for Men and Women's Senior six-person teams. The age-based divisions included women and men's teams ages 40-49; 50-59; 60-69 and 70-plus.

The tournament was held at the state-of the art-facility located on Byrdhill Road in Henrico County. Activities included a happy hour on Saturday as well as free massages by Nimbus Massage for the players.

This year's Master teams included the 7 Bettys – a team dedicated to the memory of Betty White; Yep, Still Playing and Code Red.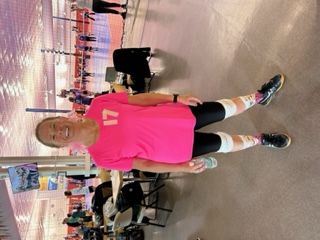 Lori Laws was happy to show off her Betty jersey during the event.

Karen Taylor-Davies, a long-term AARP volunteer and 30-year volleyball player, explained that "volleyball is a game of momentum."

The play between the Lokaht (coming together) and the KRAYZ (Crazies)—two 60-69 division teams--became fast and furious. The Lokaht didn't miss a ball, and finally the KRAYZ called a time-out that broke the momentum for the Lokaht. When play resumed, the KRAYZ found their momentum.

Established in 1981, the mission of RVC is to create a safe environment through access, diversity and inclusion. Its goal is to reach more individuals each year through partnering with various organizations and causes in the area.

For example, they currently work with Henrico, Chesterfield and Richmond Police Athletic Leagues (PAL) as well as the Special Olympics.

RVC is dedicated to providing opportunities to build skills in teamwork, sportsmanship, and appreciation for health and wellness through the sport of volleyball. The club promotes having fun while learning in its local community.