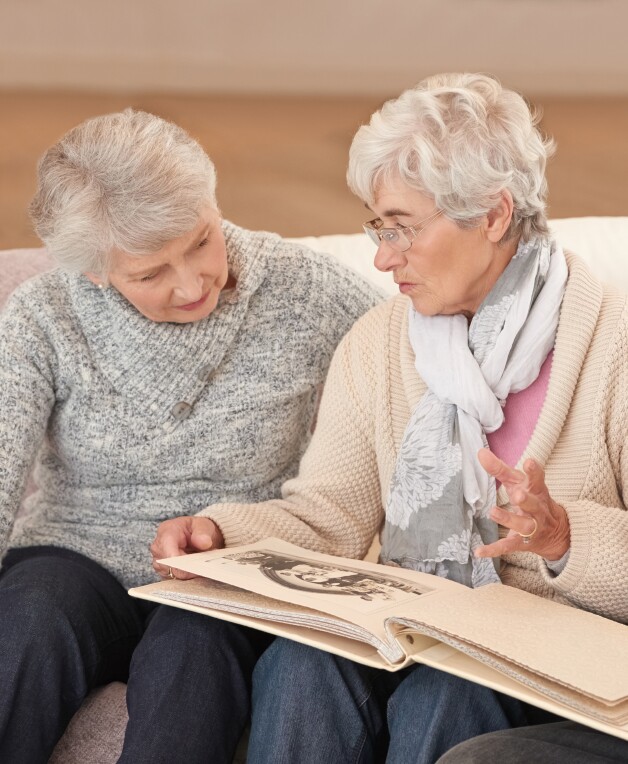 Senior Services of Alexandria's Friendly Visitors make a real difference in seniors' lives
By Diane Stoy, Ph.D.
Friendly Visitor Volunteer

Extensive research has shown that depression and loneliness are major problems that impair the quality of life among older adults, and that there are significant benefits of socialization for seniors. The Friendly Visitor Program of Senior Services of Alexandria (SSA) provides social interaction and relieves loneliness in senior citizens who are isolated or home-bound. When SSA first introduced the program in November 2012, AARP Virginia recognized its potential to help change seniors lives. SSA and AARP worked together to create a mail invitation that was sent to 5000 AARP members and other 50+ Alexandrians to publicize this new volunteer opportunity, insuring its early success.

After hearing many positive, uplifting stories from the seniors and volunteers in the Program, SSA recently conducted a formal study to assess the Program's impact on the seniors it serves and the citizens who volunteer. A total of 128 seniors, age 56-102, have been enrolled in the Friendly Visitor Program since its inception in 2012. The ratio between seniors residing in a facility vs. those living at home is 2:1. A total of 27 seniors have participated in the program for more than one year, and there are currently 76 seniors enjoying weekly meetings with their Friendly Visitor.

One-to-one standardized interviews with the seniors enrolled in the Program for more than one year revealed that the most frequent activities were talking, telling stories, and reading, although the visitors and seniors enjoyed many different activities together. The seniors have developed very close, deep friendships with their visitors, whom they view as a new best friend, member of their family, adopted daughter or son, and an invaluable person in their lives. While discussing her new friend, one senior shared, "She is perfection – my whole family loves her". The seniors reported great enjoyment from the weekly visits, which they look forward to each week. The seniors reported feeling more hopeful about their lives.

An e-survey of the Friendly Visitors volunteers who have participated for more than one year revealed that the volunteers were changed significantly by the experience of being a visitor. The visitors, who range in age from teens to 73, reported gaining a new appreciation for the aging process, the needs of the elderly who are disabled and isolated, and the worth of good health. The volunteers reported feeling satisfied and very happy about bringing a little joy to a senior's life, and becoming more aware of the need for retirement planning and the importance of social interaction in retirement. The volunteers felt fortunate that they were able to give back to their local community and were honored by a program that allows them to make a small but significant contribution to the dignity and well-being of lonely or isolated seniors. One volunteer stated, "I feel very much in the present when I'm at the nursing home. I see how little things… such as a hug, a smile, a small gift can enhance a person's day. I always feel wonderful after my visit". The survey results demonstrated the established principle of "reciprocity" - that by helping others, the helper is also helped.

In the City of Alexandria, Virginia, SSA has successfully identified seniors who could benefit from having a regular visitor, and recruited a cadre of dedicated "Friendly Visitors" who have visited those seniors every week for at least one year. The evaluation has now provided evidence that the social interaction has had profound, positive psycho-social effects on both the seniors served by the Program and the citizens who visit them, and is a wonderful example of the good created by AARP when working with an effective local non-profit such as Senior Services of Alexandria.