By: Elyssia Widjaja

AARP Founder Dr. Ethel Percy Andrus once stated the words "to serve, not to be served"—a quote that embodies the vision and mission of AARP. Those specific words Ethel Percy Andrus once articulated were a reflection of how she lived her life. By devoting her life work to improving the lives of the retired population and pursuing her passion of helping others live their best lives, she began an organization in 1958 which has since grown to about a 40 million member organization. While a kaleidoscope of factors have made AARP what it is today, one of the most important contributors to the success of AARP is the volunteers.

The roughly 55,000 volunteers that allow the vision and mission of AARP to become a reality have reaped the benefits of volunteering. Dr. Dawn Carr, a Stanford Research Associate on the subject of longevity, has pointed out five benefits of volunteering. First, people who establish meaningful volunteer roles can live longer and healthier lives. Not only can volunteering help us live longer, but it can also help connect people to one another. A 2010 AARP study reported that loneliness is higher than ever; one in three adults over the age of forty-five is characterized as lonely (Carr, 1). Dr. Carr explains that working alongside people for a similar cause can encourage people to establish stronger relationships with others, and thus, be less lonely.

Volunteering can also help your career; it can lead to networking with individuals you otherwise would not interact with and unveil new opportunities. Next, volunteering allows you to be a valuable member of society. Without volunteers, many businesses and organizations including AARP would not be able to accomplish their goals. Adopting the role of a volunteer lets us to give back to the community . Finally, volunteering can provide a sense of purpose. If someone is concerned about the well-being of animals, for example, volunteering at animal shelters grants him or her with the chance to "address a social problem" (Carr, 1).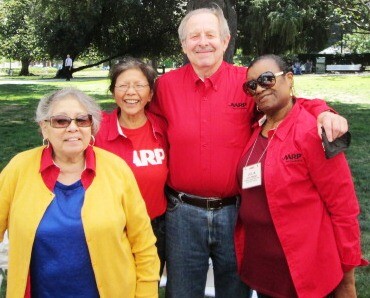 David Wiltsee, a volunteer legislative policy advisor to California AARP also involved with AARP's Livable Communities program, strongly agrees with Dr. Carr. Wiltsee declares that "a successful volunteer experience starts with the A-B-C's of volunteerism. Admire and respect the organization you aspire to associate with, Believe in the mission, Care deeply about the beneficiaries, and […] dedicate yourself to the tasks at hand." Based on both David Wiltsee's and Dr. Carr's experiences and research, they both agree on benefits of integrating volunteering into their everyday lives.

How can you begin experiencing the advantages of volunteering? AARP has a few upcoming events that can help you get started. Join us on Thursday, August 13, 2015 from 7:00 p.m. – 8:30 p.m. at the Stay Gallery in Downey to uncork unlimited possibilities and sample a variety of ways you can get involved and make a difference. You can register by calling 1-877-926-8300 or by going online at aarp.cvent.com/AARPCA2015SipSampleServe.

If you are unable to attend on that day, you can join us on Tuesday, August 18 from 11:30 a.m.- 1:00 p.m. at Gerry's Grill in Artesia or on Saturday, August 22 – 11:30 a.m. – 1:00 p.m. at the Artesia Community Center instead. Save your spot today by calling 1-877-926-8300 or by going online at aarp.cvent.com/AARPCAInfoSessionArtCer.

AARP has many programs that you can choose to become connected with like FraudWatch, which assists people in protecting themselves from scams or the AARP Driver Safety Program, which is a driver refresher course. We have something for everyone. Together, through volunteerism, we can help build stronger, more unified communities.

Works Cited

Carr, Dawn, Ph. D. "5 Reasons Why You Should Volunteer." Psychology Today. Psychology Today, 12 Mar. 2014. Web. 22 July 2015.