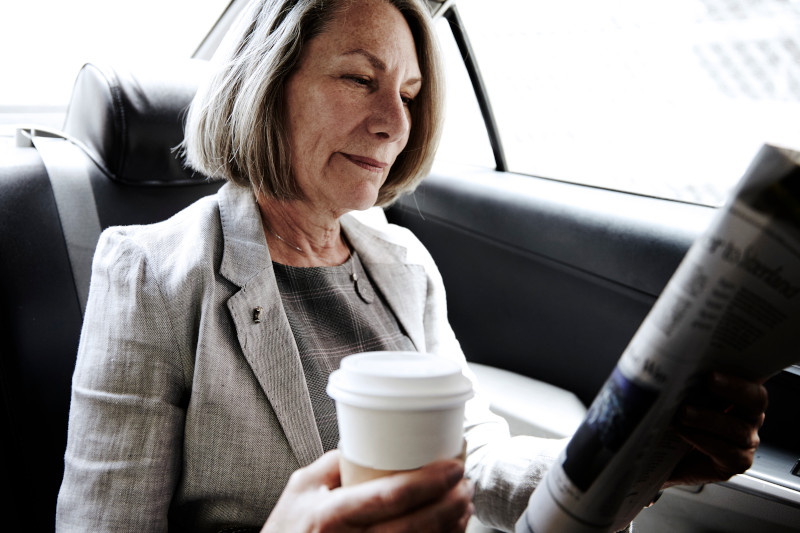 For many older people unable or unwilling to drive, a volunteer driving program plays a key role in helping them stay in their homes and maintain independence.

"Aging in place" is defined as a way for individuals to live in their residence of choice as long as they are able. To do that, access to transportation is essential.

According to a survey by AARP, about 90 percent of seniors want to age in place. In a recent program presented by the Osher Lifelong Learning Institute at George Mason University in collaboration with AARP Virginia, Emily Braley R.N., M.S.N, and manager of NV Rides, discussed how volunteer driving programs work.

Because of limited public transit, about 89 percent of seniors rely on private vehicles for their transportation. About 15 percent of older adults are considered unsafe to drive, typically because of vision and hearing issues or dementia. Telling someone they can no longer drive, said Braley, can be "harder [to face] than a cancer diagnosis."

Around Virginia, volunteer driving programs help a growing need. The typical rider is 80-plus, living alone, who can't afford taxi or ride-share services like Uber or Lyft. Braley estimates that these services on average extend the riders' ability to age in place by about 18 months.

NV Rides, which Braley took over as manager in 2021, began operations in 2014 to provide rides to residents of Fairfax, Prince William, Loudoun, and Arlington counties. The organization provides recruitment, ads, software, and coordination for 16 partner organizations in the four counties. During 2022, they provided 23,273 rides throughout the region.

About 80 percent of the rides offered by the partners of NV Rides are for medical appointments, with about 16 percent for shopping and 2 percent for jobs. Some rides are for social reasons, often to a community center or religious programs.

The typical driver is about 68 who has had experience as a volunteer, and may have been a caregiver. Drivers receive training on scheduling software and are free to choose how often and when they provide rides. The drivers use their own vehicles.

Drivers use their own insurance, which is verified by the organizations, along with their driver's license. They must have a clean driving record, undergo background checks and adhere to the volunteer policies in their county.

Friendly conversation with the riders is encouraged, although drivers are prohibited from offering medical advice or referrals. Driver comfort and safety are important, and drivers can cancel a trip if they feel unsafe, such as in bad weather.

Riders need to be independent in general. They cannot use the volunteer service for any medical appointment that includes sedation, such as transportation home from a colonoscopy. Wheelchairs aren't accepted because most private vehicles cannot adequately handle them. Other mobility devices such as canes are permitted.

All riders must complete an application through one of the partner organizations. They must make their trip requests well in advance. Most trips are one way rather than round trips, and drivers choose the specific trips they want.

One of the best things about the program, said Braley, is that drivers and riders form friendships and build relationships. For some riders, the volunteer drivers are their only contact with other people.

There are a growing number of volunteer ride programs across the country. Some charge riders a small fee. Some focus on very limited areas of coverage or restrict participation to specific populations. Others use a barter system, where a rider donates a vehicle to earn trip credits for future rides.

Braley had several suggestions for starting a volunteer driving program. An existing organization with volunteers already in place can take on the task. A community center or religious organization could offer services to a small group, such as congregation members or regular program participants.

Another option: a small group of drivers could start with a small number of known riders, providing rides to selected local destinations.

In any case, Braley recommends establishing clear trip guidelines and policies, background checks to limit risk, and a good software or data management program. Also, a key component is a trip coordinator through whom all driver and rider communications are directed.

Funding for volunteer driving programs can come from a combination of memberships or dues from partnerships, grants, or fees per ride.

A good resource, said Braley, is the Shephard's Center Volunteer Driving Center Turnkey Kit (www.shepherdcenters.org/turnkey-kit/). She also encouraged interested individuals or organizations to reach out to her at NV Rides (info@nvrides.org).