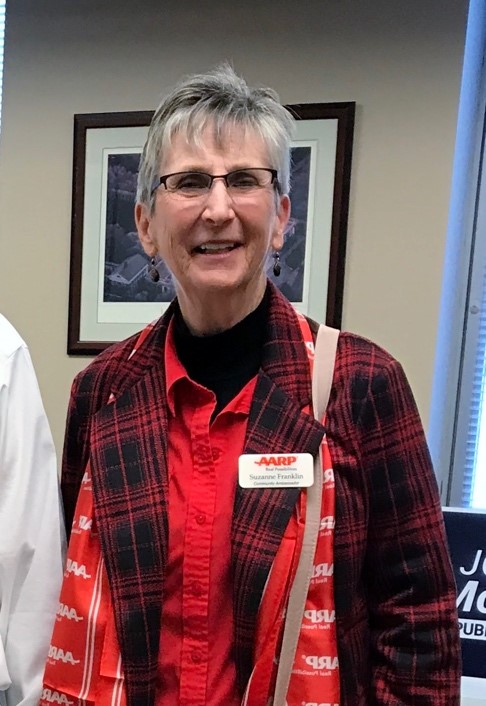 Suzanne Franklin, appointed to the AARP Virginia Executive Council in August 2021, possesses a mission to educate and inspire others while having the true spirit of a servant leader.

Franklin applied for the position on the council because, as she says, "I hope to provide leadership and information to advance the AARP goals and priorities further." According to AARP Virginia, "The Executive Council is a team of volunteer leaders from across the commonwealth who help carry out AARP Virginia's strategic priorities under the guidance of our State President, Joyce Williams, and our State Director, Jim Dau."

To understand Franklin, you must understand her background and her family history. She was born in Washington, D.C., and grew up in Hyattsville, Maryland. She attended the University of Maryland hoping to become a veterinarian but fell in love and married and moved to Amherst, where her husband and father grew up.

A few years after her daughter was born, Franklin enjoyed working as a substitute rural mail carrier delivering on multiple routes and was a substitute clerk at the post office. Then, after 10 years, she was hired as a regular rural carrier and stayed in this position for another 20 years. Finally, she had the good fortune of retiring at the age of 55.

As a carrier and steward, Franklin worked with other carriers and the Virginia Rural Carrier Letters Association (VARLCA) as a liaison between carriers and the administration on bringing issues and challenges to the forefront. As a facilitator, she loved resolving issues.

While driving many routes as a rural carrier, she found a need for and an interest in driver safety. So after retiring, Franklin asked if AARP needed trainers to teach AARP Driver Safety courses. Shortly after she asked, she became a certified trainer in 2016 and started teaching in 2017. In 2020, AARP suspended in-person classes because of COVID-19. However, the safety class is currently available online.

In the driver safety classes, some of the participants are in their 80s. According to Franklin, "there is a lot about safe driving participants may have learned in the past, but they can benefit from all the new and pertinent information in the class. They like to learn about road challenges, applying safety, and saving money on insurance. It's good to help people save money, and they appreciate the information. Plus, it's fun."

Franklin enjoys the interaction with participants and feels that the sessions are informative, and participants express that they get a sense of empowerment.

As an AARP volunteer, Franklin has been a Community Ambassador, a member of the state and federal advocacy teams, a team leader for the dinner group in Lynchburg, and a presenter in the Speakers Bureau. Before the pandemic, she started an AARP Dinner Group in Lynchburg to encourage a sense of community, share information, ask for recommendations and recruit volunteers. She says she volunteers with AARP to help others, and it gives her a sense of purpose.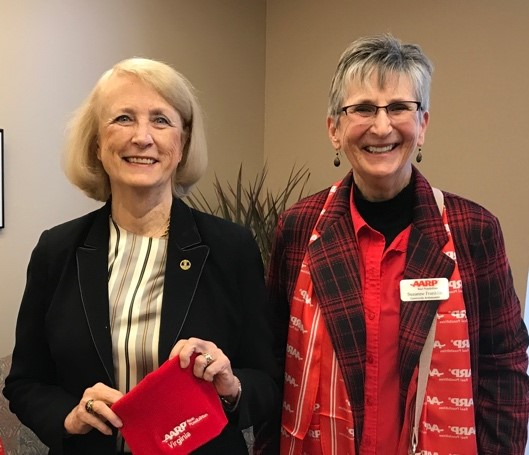 In 2017, Franklin was an advocate for the AARP Virginia State Advocacy Team, where she spoke with members of the General Assembly. Because of her knowledge and skill in bringing the AARP agenda to legislators, she was at it again in 2018 and 2019, participating with the AARP Virginia Federal Advocacy Team - on Capitol Hill. Franklin indicated, "I have an interest in learning and practicing the tools needed to share AARP information and acknowledge AARP work."

Franklin is excited by the opportunities to be more involved in AARP. Her volunteer aspirations in joining the Executive Council and continuing her local volunteer work are to do a better job in serving the community, have more community involvement, and provide more programs and physical activities. In addition, she hopes to move toward, "educating seniors about what's available to them and empowering and improving lives by exercise, education, and advocacy."

Through AARP, Franklin has been involved in other community work with the YMCA and local parks and recreation centers in multiple counties, and a member of the planning committee for the Virginia Governor's Conference on Aging. She was on the planning committee for the Consortium on Aging conference in Lynchburg, where AARP Virginia was one of the sponsors. She was one of many volunteers who tried to save The Ellington, a venue where residents listened to blues music. Franklin also volunteers for WNRN - Public Radio. Before the pandemic struck, she was helping to coordinate a walking group sponsored by the YMCA and the city with AARP.

"It's fun being involved in multiple things and making a difference," Franklin said. She has been very active in the community and loves sports, especially tennis. To her, tennis is an excellent way to get exercise. At the age of 68, she hopes to play until 90. She likes singles best but also plays doubles.

She balances her life in the community with her love of family. Her daughter is a graduate of, and now her granddaughter attends, the University of Lynchburg. Franklin currently lives in the same home as her grandfather did, a farmhouse in Amherst. Her mother and father spent a great deal of time at the house with her and her two brothers throughout the years. She loves living in Amherst. Inspired by her community services involvement, Franklin indicated that she is excited to be a new member of the Executive Council.