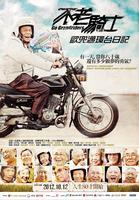 Go Grandriders, a documentary film about a group of elderly motorcycle riders is changing concepts associated with aging; it features 17 older adults who fulfilled their dream of riding motorcycles around the whole country of Taiwan.

The documentary will be shown at the Angelica Film Center and Café in Fairfax, VA on Tuesday, August 27th at 7:00 p.m. Following the showing of the film, grandrider Chang Hon-dao and his wife (and fellow grandrider) Chang Chen Ying-mei, will lead a discussion about their experiences and answer questions.

Click here to reserve your complimentary ticket to this free screening.


http://www.youtube.com/watch?v=OgZcWTC70L4. [/youtube]



HelpAge USA is an NGO partner for this event. HelpAge USA, an affiliate of HelpAge International, builds awareness of global aging issues among US audiences; advocates for the empowerment of older, vulnerable adults in the developing world; and raises funds to support the programs of the HelpAge network.

* This is not an AARP event. Any information you provide to the host organization will be governed by its privacy policy.