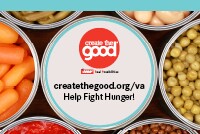 AARP VIRGINIA STATEWIDE COMMUNITY FOOD DRIVE IS SEPTEMBER 8-15



RICHMOND _ It takes just a little to give back a lot, and no matter where you live, you can help fight hunger in your community September 8-15.



The AARP Virginia Statewide Community Food Drive begins September 8, when more than 150 collection sites statewide will accept food for community food banks and food pantries. People across the Commonwealth are organizing food drives in their communities to aid local food charities. Many of the collection events are in front of grocery stores the week of Sept. 8-15.



Virginians who want to help can make a difference in their community by filling a bag with non-perishable food that local food banks need the most. Those items include peanut butter, chunky soups, canned meats, canned tuna, canned vegetables, crackers, hot and cold cereal, pasta, rice and canned fruit. No glass containers, please.



To find a food collection site, visit www.createthegood.org/va or dial 2-1-1. The list is updated regularly. If there is no site nearby, those who want to help can take food to any local food bank or food pantry.



More than 900,000 Virginians are at risk for hunger. While donations to food banks have decreased, requests for food assistance have increased. According to a survey conducted by AARP Virginia in 2012, 72 percent of Virginia residents believe hunger is a very important or somewhat important problem in the state.



AARP Virginia has been holding a statewide food drive for five years. For the statewide food drive this year, AARP Virginia has teamed up with AmeriCorps Virginia, Federation of Virginia Food Banks, Northern Virginia Urban League, TRIAD and Urban League of Hampton Roads.



Learn more about AARP Virginia at www.aarp.org/va. Like us on Facebook at www.facebook.com/aarpvirginia and follow us on Twitter at @AARPVa. Find social media posts about the food drive using the hashtag #FeedVA.