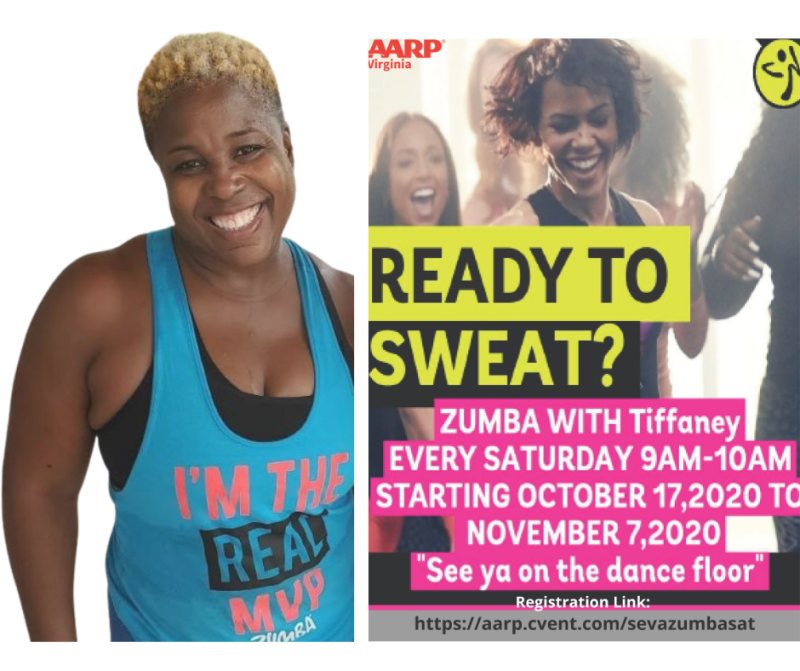 Maybe you've wondered about Zumba‑‑the dance-exercise class with a beat—but you've been put off by videos of classes filled with lithe 20-somethings frantically waving and bouncing.
That's not the whole story of Zumba, says Tiffaney Dunbar, a Virginia Beach-based Zumba instructor who is teaching at-least four Zumba classes for AARP beginning Saturday, Oct. 17.
"Anyone of any age can take Zumba," Dunbar says. "Zumba is a dance fitness class that incorporates rhythms from around the world in order to create a dynamic, fun, yet challenging experience. It's not just regular dance."
Created by Colombian dancer and choreographer Alberto "Beto" Pérez, Zumba has been around for about 20 years but has seen increasing popularity over the past decade. It draws from the musical traditions of Africa, Latin America and the Caribbean and combines them with loose dance steps designed to get the body moving and the blood pumping.
Unlike some exercise programs that are based on rigid movements that must be performed exactly, Zumba encourages participants to bring their own personality to the moves. It also allows participants to modify their exercises to match their physical abilities.
With eight years as a certified instructor, Dunbar has taught Zumba to people who were blind, in wheelchairs, suffering from multiple sclerosis and well into their 80s. That's because Zumba starts at a basic level and then ramps up in intensity for those who desire more strenuous activity. Participants are encouraged to find a level of exertion that suits them.
It's also for both sexes. Dunbar says many men participate in Zumba classes, even though it may seem from YouTube videos that it's primarily for women.
There are three major benefits to Zumba, Dunbar says:

You get to have fun while staying in shape. It's particularly beneficial to older people whose joints have become stiff. "Zumba is the best workout for people who don't like to work out."
It helps build the cardiovascular system. Dunbar notes that health experts say people should have a good cardio workout at least four times a week.
It's very social. "It's more than just a class, it's a community…who love to dance and have fun."
While Dunbar is an advocate for the benefits of Zumba, she doesn't claim that it is better than other forms of exercise. "There is no one-size-fits-all exercise class," she says, noting that some people may prefer yoga or kick boxing.
Nowadays, Dunbar's Zumba class is on Zoom. That means people can participate in the security of their own homes. They don't even have to turn the camera on themselves if they are self-conscious.
Although the class officially starts at 9 a.m. on Saturday, Dunbar recommends a bit of prior preparation. For older participants who may be a bit stiff, she recommends about 10 minutes of gentle stretch before the class begins. And because participants must log-in to the class before it starts, Dunbar recommends that people try to sign in around 8:45 to avoid last-minute computer glitches and hurdles.
During the class, which starts with some warm up exercises, Dunbar urges participants to: listen to your body, don't push it; hydrate (bring a water bottle); participate (don't just sit there watching others) and "have fun."

To join the virtual class on Saturday, register here.