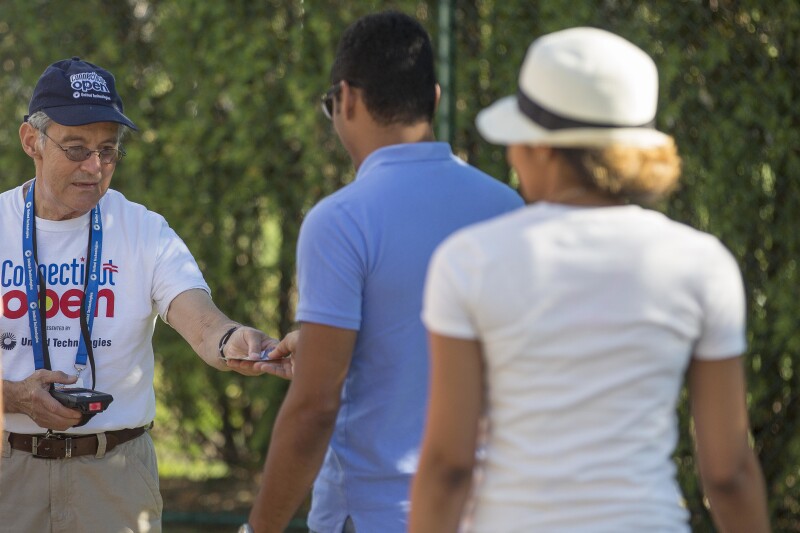 AARP Connecticut is proud to sponsor the 2015 Connecticut Open presented by United Technologies set for August 21-29, featuring live world class tennis during a week-long festival of activities, booths, music and food. As the presenting sponsor of the "AARP Volunteer Village" at the Connecticut Open, we're also providing opportunities for you to see all the action up close and get behind the scenes at one of the area's signature events, while giving back to your community as a Connecticut Open Volunteer!

The best tennis players take part in the Connecticut Open, and so do the world's best volunteers. You can help make a difference! Areas of volunteer needs include player transportation, in-stadium usher, Aetna FitZone, and General Volunteers for those who enjoy a variety. Volunteers receive FREE benefits including uniform, tickets, for family and friends, meal vouchers, tournament credential, free parking and much more in exchange for volunteering a minimum of six (6) shifts throughout the week. The Connecticut Open is committed to supporting women's, youth, and sponsor causes and this could not be done without the support of more than 400 volunteers.

For more information or to register to volunteer, visit www.ctopen.org, email volunteers@ctopen.org, or call 203-776-7331 ext. 5842.

AARP DAY at the Connecticut Open, Monday, August 24!
*** Ticket discounts available for AARP Members and Their Guests ***


Not interested in volunteering? You can still enjoy all the action, and save money by showing your AARP card when you purchase tickets.*

AARP members and their guests will receive a 30% discount off of Adult Stadium Box Seats for both the Day and Evening Sessions on Monday, August 24. Show your card at the box office or use our special online discount code. If you go, don't forget to stop by the AARP Real Possibilities Booth to say hello! We'll have lots of free information, educational resources, giveaways and more! Tickets go on sale June 8, 2015.

*Discounts are available for specific dates/sessions. Some restrictions apply. Please visit us here for all the details.