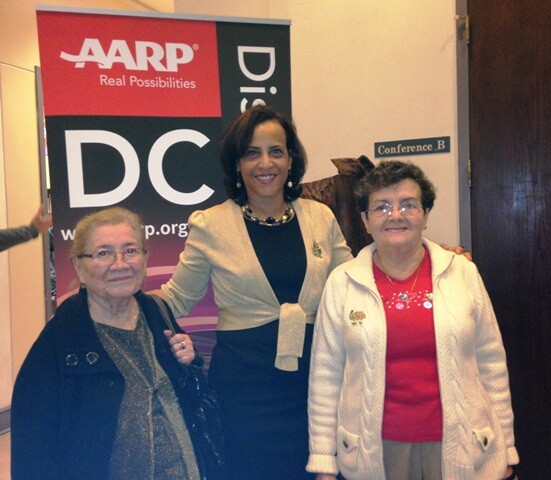 Over the years, AARP DC has enjoyed a special relationship with Vida, a center established to meet the needs of the District's Latino seniors. The center has been a connecting point for two women, Seňoras Carmen Mazariegos and Argelia Molina, who volunteer together on many AARP DC initiatives offered through Vida. We celebrate Women's History Month and the volunteer spirit of Seňoras Mazariegos and Molina.
"Anytime we are called, we are eager to volunteer," said Seňora Argelia Molina during a break from a recent gathering. "I've been an AARP member for a long time. I've met new people from different countries and made new friends."
Seňora Carmen Mazariegos was thrilled about what she has learned as an AARP volunteer.
"I started working on the computer as an AARP volunteer," said Senora Mazariegos. "With AARP, I get to work with people who need help like some who are disabled. More people from the community need to get involved."
AARP DC and Vida collaborations have included coordinating a health fair and providing presentations about the Affordable Care Act (ACA). The AARP DC State Office also recruited Vida seniors to help with the annual Drive to End Hunger campaign collecting food at local grocery stores. Additionally, Vida seniors have volunteered as members of AARP's Legal Counsel for the Elderly (LCE) Medicare Senior Patrol where they educate and empower seniors to advocate for Medicare/Medicaid on behalf of beneficiaries, their families and caregivers. AARP DC's work with Vida is part of its ongoing outreach with the Latino community.
"We have worked with Vida for almost five years on issues that impact the elder Latino community in the DC area," says Johnny Garcia, AARP DC's liaison to the Latino community. "Through our working relationship we have been able to build a stronger trustworthy relationship where we are now seen as family rather than just AARP."
"Our relationship with AARP DC is very special. They support our efforts in so many ways – from the fun stuff like sponsoring picnics and Christmas parties – to working with us on some of the serious challenges facing our community, such as health, safety, and advocacy," says Ruth Pagani, executive director at Vida. "Our seniors are their first priority and it is a true partnership."
Vida is a weekday senior center where "abuelitos" (a term of endearment meaning "grandparents") come to find a caring, multicultural, bilingual family. Seniors can share life stories, learn new skills, exercise, enjoy a community meal, and receive a range of comprehensive services to help them age independently and with dignity.
AARP DC is recruiting Spanish bilingual volunteers of all ages for a variety of activities throughout Washington, DC. Contact Johnny Garcia at: JSgarcia@aarp.org or (202) 434-7702.
AARP Photo (From left: Seňora Argelia Molina, Ruth Pagani, executive director at Vida and Seňora Carmen Mazariegos)