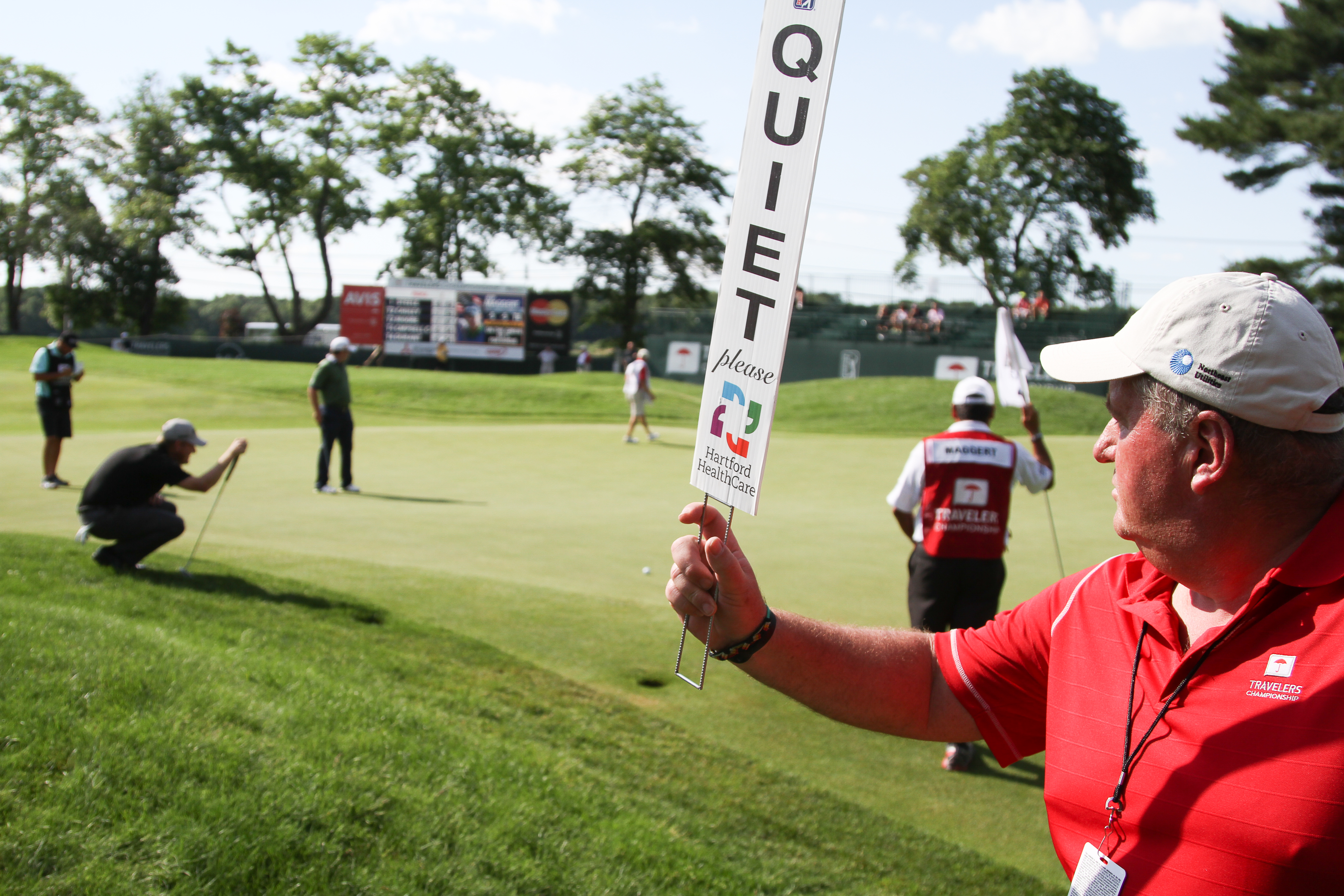 AARP Connecticut is proud to help sponsor the 2015 Travelers Championship that takes place June 22-28 - as well as the BlumShapiro 5K Run for Camp Courant that takes place May 2 - at TPC River Highlands in Cromwell, CT. Like AARP, the Travelers Championship would not be possible without the dedicated work of thousands of volunteers. We encourage members and the public to support these great local events by volunteering or signing up to run/walk in the 5K.

Volunteer at the 2015 Travelers Championship
Every year, more than 4,000 people donate their time and effort to volunteer for the Travelers Championship. The Tournament's volunteers spend countless hours throughout the week to help deliver a world-class PGA TOUR experience for players, fans and the media. By volunteering, you help the tournament raise money for charity. The Travelers Championship donates 100 percent of net proceeds to more than 140 charities throughout New England. In 2014, the tournament gave $1.558 million to charity, thanks in large part to the help of the 4,000+ volunteers that make the event possible.

Volunteering is great way to give back to your community, support charity, and go behind the scenes of a professional sporting event. There are more than 30 different volunteer committees with something for everyone!

To register to volunteer, visit www.TravelersChampionship.com/volunteers or email volunteers@travelerschampionship.com for more details.

Take part in the BlumShapiro 5K Run
Registration is now open for the BlumShapiro 5K for Camp Courant at the Travelers Championship. The premier kickoff event for the 2015 Travelers Championship will take place on Saturday, May 2, at TPC River Highlands in Cromwell, CT. Individuals and groups are encouraged to run, walk and donate to benefit Hartford's Camp Courant, the largest FREE day camp in the nation.

The BlumShapiro 5K begins with the Aetna Kids Run at 10:30 a.m., followed by the race and walk at 11:00 a.m. All post-race activities will begin at 11:30 a.m.

New for 2015, the BlumShapiro 5K will feature enhanced post-race activities for participants to enjoy. After the race, complimentary food will be available to all participants courtesy of Bear's Smokehouse Barbeque. Also, Michelob ULTRA will be onsite supporting the event. Both before and after the race, children will be able to enjoy mini golf, inflatables, clowns, jugglers, face painters, balloon artists, caricatures and more.

Those interested in participating in the BlumShapiro 5K, Aetna Kids Run or donating to Hartford's Camp Courant can register by visiting www.travelerschampionship.com/blumshapiro5k.