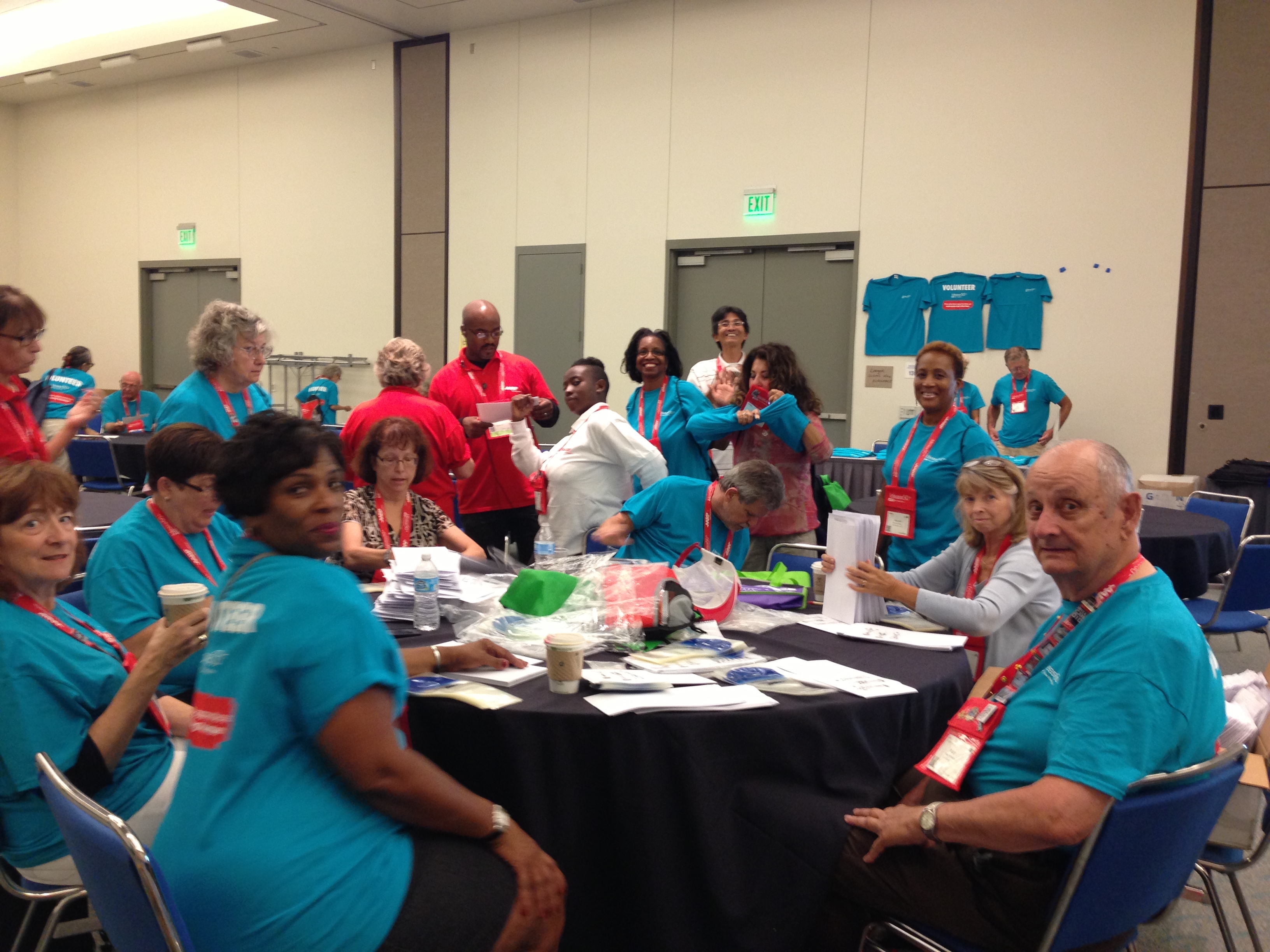 Over one thousand volunteers worked hard to make San Diego's Ideas@50+ event a great success. The event, which took place in early September, attracted over 10,000 attendees. There was great entertainment featuring big name celebrities, many high profile speakers, workshops on important topics, and an exhibit hall that engaged everyone. Volunteers took on tasks such as registration, shuttle transportation oversight, greeters, room monitors, and much more. And always with a smile and helpful information. They were truly the life and soul of the event!
The real fun was in the Volunteer Lounge, where volunteers from all over the country came to share their stories, make connections, and learn more about AARP. While waiting for their shifts to start, volunteers mingled at tables and shared everything from recipes, travel information, and strategies on how to obtain all of the coveted collector pins in the exhibit hall.

At one of the tables, a volunteer from North Carolina (a former stylist) gave wardrobe tips to a group of volunteers from Los Angeles, Nevada, and San Diego. They, and others at their table, worked to make the Ideas@50+ blue tee-shirts more trendy and appealing through knotting, scarves, pins, and other adjustments. The fashionistas arrived at their shifts eager to work while looking amazing!

At another table, a volunteer from Los Angeles (and possibly, a future contestant in AARP's Boomer Idol event) sang an inspiring gospel song while volunteers helped package booth giveaways.

All in all, it was a great effort from volunteers across the country. The California State Office received close to 400 interest cards for further opportunities. There will be upcoming AARP information sessions that they'll be invited to attend to hear about all the work we're doing .

Next spring Miami will host Life@50+ and we're looking forward to another great volunteer experience.

Want to be the first to know about upcoming AARP events like this in your community? Sign up for our email list and join us on Facebook and Twitter to stay informed!