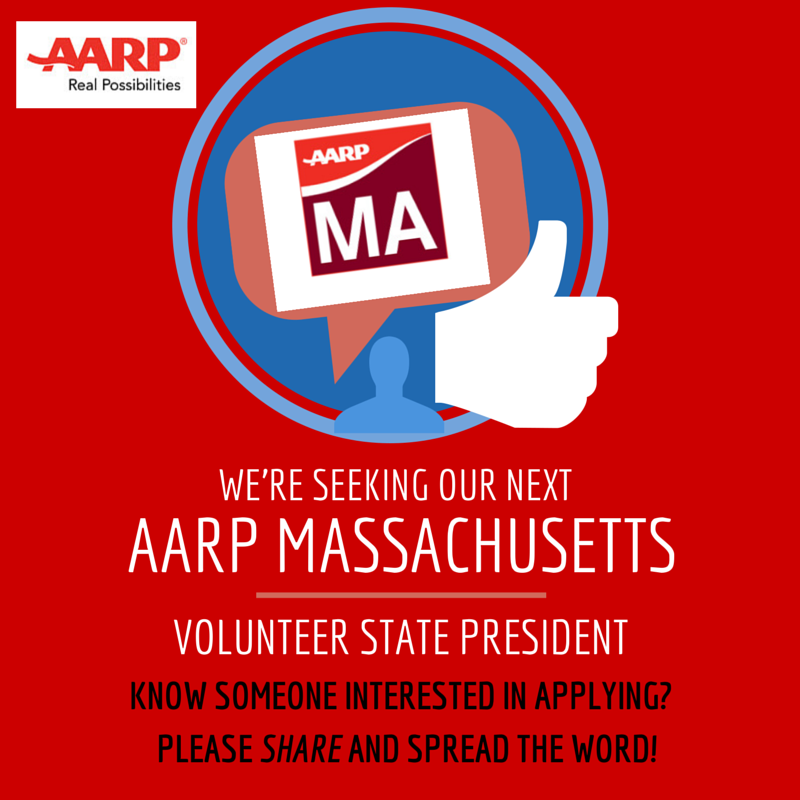 We've extended the deadline in our search for a volunteer leader to serve as our new state president! Applications are now being accepted through 5 p.m. on Wednesday, Oct. 15, 2014. See below for a job description, our selection criteria, and an application form.

The state president works in collaboration with AARP Massachusetts State Director Mike Festa to achieve the Association's vision, mission, and strategic priorities in the state, and serves as chairperson of the AARP Massachusetts Executive Council. The Council, in partnership with the state director and state office staff, develops the framework for the state's strategic plan and supports AARPMA's social mission in the areas of advocacy and volunteer/community outreach activities.

The idea candidate for state president is an individual with strong leadership and interpersonal skills, public policy and planning experience, a talent for networking, and the ability to coach, mentor, motivate, and inspire others. Previous volunteer leadership experience is required, either with AARP or other organizations.



  Do you know someone who might be interested in applying  to be the next volunteer president at AARP Massachusetts? Don't wait! The application deadline is Wednesday, Oct. 15, 2014."
The AARP Massachusetts state president position offers a once-in-a-lifetime opportunity to make a positive difference in the lives of numerous people. Benefits include reimbursement of all expenses including travel throughout Massachusetts and the United States, as well as training and support from the state, regional, and national offices. The position enables state presidents to build networks with organizations and key decision makers that will endure long after their term in office.
Do you know someone who might be interested in applying to be AARP Massachusetts' next state president? Please share this information with someone you think might be interested.
State President Job Description (pdf)

State President_Selection Criteria (pdf)

State President Application 2014 (pdf)

Those interested should complete the application and mail it to: AARP Massachusetts, One Beacon St., Ste. 2301, Boston, MA 02108, ATTN: Mike Festa, AARP MA state director.
For more information, call Mike Festa directly at the Massachusetts state office at 617-305-0561, or email him at mfesta@aarp.org. The application deadline is Wednesday, Oct. 15, 2014.
Join us in making a positive difference in the lives of the people in Massachusetts!