En español | As one of the few states that voted almost entirely by mail before the coronavirus pandemic hit the U.S., Washington is well-positioned to allow voters to cast their ballots safely from home:

Election Day is Tuesday, Nov. 3. Because most of the state votes by mail, poll hours vary by location. You can use the state's voter information portal or contact your elections office to determine when and where to cast your ballot. Your polling place may be different this year, so check before you leave.
Be prepared for potentially long lines, and remember to take your mask and to follow social distancing measures at the polls. If you're already registered to vote, you won't be asked to show ID.
With Election Day only days away, consider dropping off your completed mail-in ballot in person. Contact your local county elections department with more information about where to take your ballot.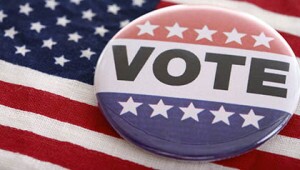 Here's what else you need to know:

How do I register to vote?

You can register online, by mail or in person. You can use the state's online voter portal to register if you have a valid state driver's license, permit or ID card.

You can also download a voter registration form and mail it to your local elections office. To submit an application by mail, you'll need a driver's license, permit or state-issued ID number, or the last four digits of your Social Security number.

Online and mail-in registration must be received by election officials by Monday, Oct. 26 to vote in the November general election. You can also register to vote in-person at your elections office or at a voting center. Washington offers same-day registration, so you can register up to and including Election Day, Nov. 3.

How can I get a mail-in ballot? Are there important deadlines?

Election officials will mail absentee ballots to all registered voters by Friday, Oct. 16. If you don't receive a ballot or need a replacement, you can log into the state's online voter portal or contact your elections office. Your new ballot will cancel out your original ballot. Your ballot materials will include a prepaid postage envelope.

Your ballot can be mailed to your elections office or dropped off in person. Ballots must be postmarked by Election Day or dropped into a ballot box by 8 p.m. on that day. If you're unable to sign the voter declaration portion of your ballot, you'll need your ballot to be signed by two witnesses.

If you vote by mail, election officials ask that you don't lick your ballot envelope to seal it, even if you believe you are healthy. Use water or a wet sponge instead.

How do I know my mail-in ballot is secure?

Washington's mail-in system was implemented statewide in 2011, so the state has a history of conducting elections largely by mail. Your ballot signature will be verified with the signature election officials have on file. If you forgot to sign your ballot, or if your signature doesn't match, an election worker will contact you.

The state's paper-based voting systems — and its use of scanners and tabulating machines that aren't connected to the internet — mitigate digital security threats. The machines are tested before each election and kept in a secure place. Ballots are kept in secure storage.

When is Election Day? When are voting centers open?

Tuesday, Nov. 3. Because most votes are cast by mail, polling center opening hours vary. If you want to cast your ballot or drop it off in person, polls close at 8 p.m. You can use the state's voter information portal or contact your elections office to determine when and where to cast your ballot.

Can I vote before Election Day?

Yes. You can return your ballot by mail or in person as soon as you receive it. If you decide to vote in person, voting centers will be open starting Oct. 16. Contact your elections office to see where you can cast your ballot before Election Day.

What form of identification do I need to vote in person?

If you're already registered to vote, most voting centers will not require you to present a photo ID such as a driver's license.

What is being done to make voting centers safer from the coronavirus?

The state distributed nearly $10 million to county auditors for pandemic protections in voting centers. Depending on where you live, your elections office may implement curbside voting or plexiglass barriers for social distancing. Some counties may ask election workers to stagger shifts to provide more space for distancing.

Washington is requiring face masks in indoor public spaces, so election workers and in-person voters will need to cover their faces. Election workers will also frequently clean high-trafficked surfaces and areas.

Will I able to vote in the same place as I always have?

Not necessarily. In Yakima County, some ballot drop locations have been closed this year. In King County, officials may expand the number of polling locations available to voters to reduce crowd size. Check your elections office for updated voting locations and hours.

What are the key races in my state?

U.S. president
U.S. House: All 10 seats
Governor: Incumbent Jay Inslee (D) vs. Loren Culp (R)
State Senate: 25 of 49 seats
State House: All 98 seats
This guide was updated on Nov. 2 with more information about voting in person. Voting rules and procedures may change before Election Day. We'll update this story if they do, so bookmark this page and check back.

AARP is urging older Americans to ask the candidates 5 key questions:

Just over half of all older Social Security beneficiaries rely on the program for at least 50 percent of their income. If elected, how will you ensure that current and future Social Security benefits are not cut as part of deficit reduction?
Half of the people with traditional Medicare spend at least a sixth of their income on health care. If elected, how will you protect Medicare from benefit cuts, as well as lower health care costs and ensure seniors continue receiving the affordable health care they have earned?
COVID-19 has caused death and suffering for too many older Americans who require long-term care. If elected, how will you make sure seniors can access safe and affordable long-term care at home, as well as in facilities like nursing homes and assisted living?
Also of Interest