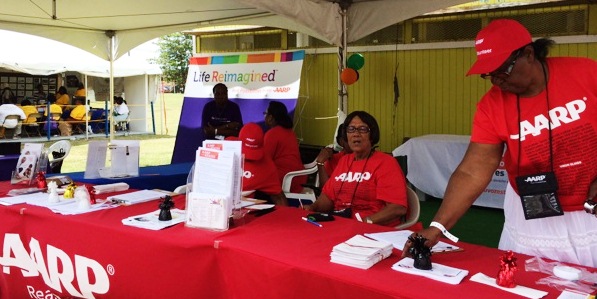 Each year, residents of the Virgin Islands come together on the island of St. Croix to present one of the largest displays of agricultural products, livestock, arts, crafts and good food to the Caribbean. As the year's largest event, the Agricultural and Food Fair (Ag Fair), draws thousands of fairgoers from all four US Virgin Islands, the British Virgin Islands, Puerto Rico, the US, and many other island nations down the Caribbean island chain.

For more than more than 25 years, AARP Virgin Islands volunteers have been participating in this event. AARP VI has its own tent that is traditionally positioned at the main entrance to the fair.

The volunteers at AARP VI actually plan their personal schedules around the fair. "Most of our fair volunteers have been with us for years," states Denyce Singleton, AARP VI State Director. "These volunteers have been the key supporters who championed our social change agenda each year from the Social Security, Medicare, Divided We Fail, Long-term Care and Livable Communities, You've Earned Say, and Volunteering Campaigns we used as themes over the years. These themes were in addition to our regular booth which highlighted our work with Driver Safety and this year Life Re-Imagined.

The 2014 Ag Fair activities were spearheaded by 31 of our incredibly loyal volunteers who through good weather and bad have given their time and talents each year by physically setting up our exhibits, assisting with survey, polls and petitions, and distributing materials used during the three (3) day event.

This year AARP Virgin Islands had three separate booths in the fair: Driver's Safety, Life Re-Imagined and our general AARP booth. Each booth helped to " Tell Our Story" about what AARP does, and what it offers, but most importantly, these volunteers spoke from the heart and told their own personal stories of their time with AARP. They talked about what they have gained as members and what our history in the community has been. "Our volunteers are our greatest asset. They share our story our mission and especially our passion."

Two distinct features of the 2014 AARP Ag Fair booth were the inclusion of a transportation poll to gauge changes to VI drivers' behaviors and our membership raffle. Membership raffle winners were Verdan Prince (day 1), Monsenate Ayala (day 2) and Elmeda Stanley (day 3). A big thank you goes out to all 31 volunteers who helped make the 2014 Ag Fair a huge success. We appreciate your service and we love your AARP spirit!