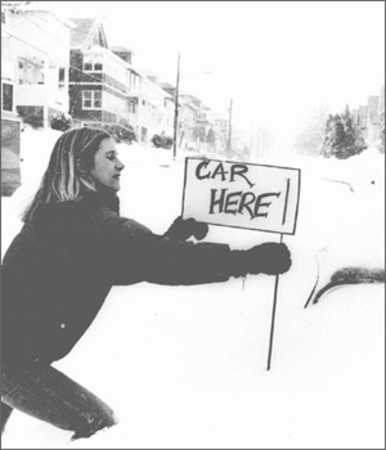 I remember only the novelty of the Blizzard of '78: walking on top of the buried chain link fence; digging out a snow cave for hours with the neighborhood kids; staying out of school for what seemed like weeks. I do recall being told to leave my legs outside of the dugout, so that I could be spotted in case of a cave-in. (And yes, now that I am a mom, I would make my daughter do the same thing!)

What I didn't remember: it took my dad 12 hours to get home to Worcester from Westborough. He eventually got home safely, and we were lucky in that we had power. So despite that sleepless night, my mom's memories are similar to mine. She recalls an almost festive, old-fashioned feeling in the neighborhood – with everyone outside helping to shovel, reveling in the thrill of giant snow drifts. Of course, many others weren't that lucky, but as I talked to my fellow coworkers and neighbors it seems like many had same experiences: fathers stranded and making their way home (one decided to go to the Beanpot hockey tournament); the thrill of walking to the store down the middle of the street pulling a wagon.

We asked folks to share their memories on Facebook – read the comments here, and add yours. I loved hearing from nurses and other essential workers – and learning of not one, but two engagements!

I only wish I had a good photo to add – but in the pre-digital era, we were too busy in the snow to snap a pic.


http://youtu.be/i7Co26eXgNg[/youtube]

Photo credit: Beverly Patch

Video credit: Dave Herring