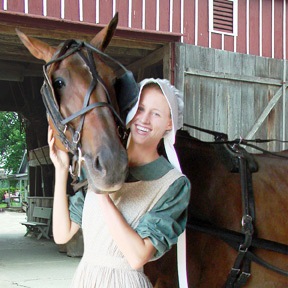 Experience the history of settling Ohio when costumed guides lead AARP members on an exclusive and free tour at Historic Sauder Village in Archbold.

You will learn how Ohio families lived more than 100 years ago and witness craftsmen blending skill and creativity in glass, metals, fabric, wood and clay. Wear comfortable shoes to walk throughout the village and learn about life in the late 19th and early 20th centuries.

Members are invited to bring grandchildren, other family members and friends to enjoy a tour of the historic village and to enjoy light refreshments.

AARP members will gather at the Sauder Village welcome center at 11a.m. on Saturday, August 8, 2015, for light refreshments and to meet fellow AARP members for a guided tour through 40 sites within the village The tour is free to AARP members and their guests, but advance registration is required.

To register to attend call toll-free 1-877926-8300 or RSVP online by clicking here: AARP tour of Sauder Village.

We look forward to meeting you at this special event at Sauder Village, located at 22611 Street, Rt. 2, Archbold, Ohio 43502.