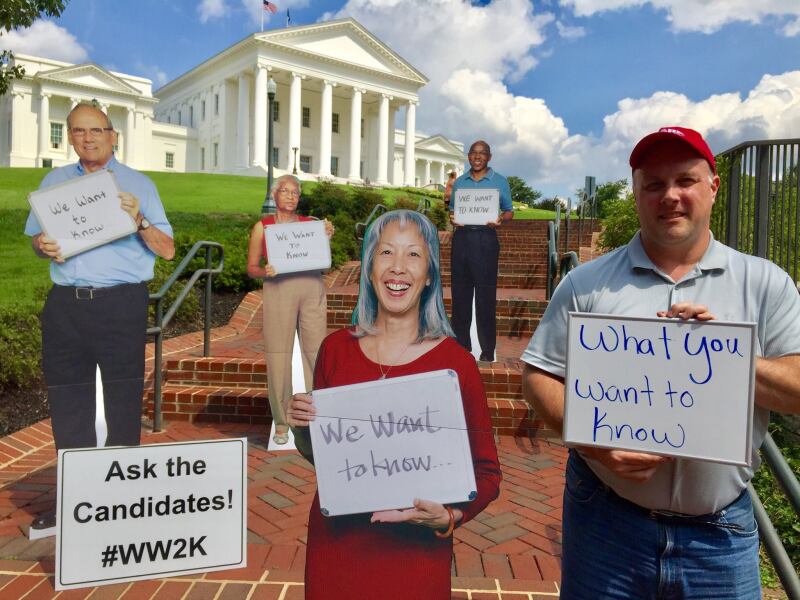 What would you ask the next Governor of Virginia? What do you want to know from the candidates before you cast your vote in November?

You can ask your question and be in the know with #WW2K!

Here's what you need to do:

1. Write your question for the candidates on a whiteboard or a white piece of paper. Make sure it is a question that ALL candidates for the office can answer. Avoid personal attacks on candidates, and do not use an accusatory or inflammatory tone.

2. Take a photo of yourself holding your question - make sure it is readable in the photo.

3. Post it on Facebook and/or tweet it via Twitter using the hashtag #WW2K. Make sure you tag ALL of the candidates on the ballot for the office and tag AARP Virginia so that we can share it! We're @AARPVA on Twitter. See our list of candidate Facebook pages and Twitter handles. If you can't ask your question and tag all of the candidates for the office in 140 characters on Twitter, post a separate tweet for each candidate.

4. Tell your friends and encourage them to participate!

If you aren't social media savvy, email your photo to us. Make sure to include your first and last name and the city or county where you live (we won't use your last name on social media).

#WW2K