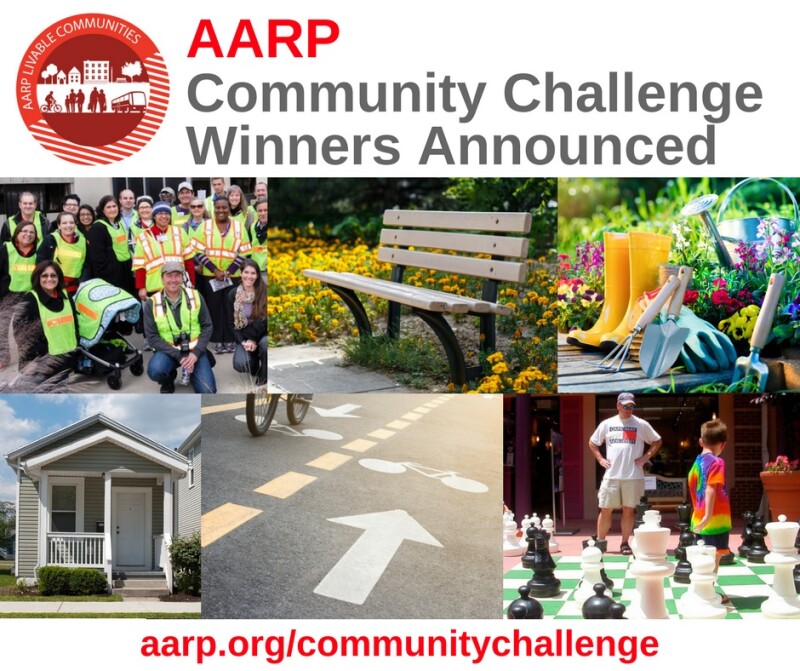 Today, AARP announced the awardees for its 2018 AARP Community Challenge grant program, including Wyoming projects in Laramie and Rock Springs. A total of $1.3 million will be distributed to fund 129 "quick action" projects across the country, helping communities make immediate improvements and jumpstart long-term progress to support residents of all ages.

Nearly 1,600 applications were received from non-profits and government entities for the program, now in its second year. Each project, which must be completed by November 5, is designed to achieve on one or more of the following outcomes:

Deliver a range of transportation and mobility options that increase connectivity, walkability, bikeability, and/or access to public and private transit.
Create vibrant public places that improve open spaces, parks and access to other amenities.
Support the availability of a range of housing that increases accessible and affordable housing options.
Address other issues of importance for communities.
Here in Wyoming, grantees include:

Laramie: Action Resources International: Feeding Laramie Valley

This $20,000 grant will fund a new fully accessible community garden to increase access to healthy food, multi-generational learning opportunities, and support a culture of health for all people living with mobility and disability challenges.

Lina Dunning with Feeding Laramie Valley says the community garden will be placed in Kiwanis Park in Laramie across the street from Linford Elementary School. She calls the area a food dessert, pointing out it is a long distance from other community gardens and grocery stores. She adds those living in the area around the proposed community garden tend to live in apartments or homes without space for a garden.

"This is a part of the community that is really underserved in a lot of different ways," Dunning says. "A lot of people in this area do not have the capability of growing their own fresh food in their own garden."

Rock Springs: Wyoming Rock Springs Urban Renewal Fund/Main Street

This $5,000 grant will fund a mural to be prominently displayed in Downtown Rock Springs, which will depict the hard work and sacrifices of local miners and railroad workers. The mural will contribute to a vibrant public space in the community and foster respect for the history of the community.

Chad Banks is the director of the Rock Springs Main Street program and says the grant will result in the eighth mural in downtown Rock Springs, which are a centerpiece of downtown Rock Springs.

"The murals particularly have really captured the excitement and engagement of the community," Banks says. "People love seeing them, so the grant further enhances the excitement in the community as well."

The Community Challenge grants provide communities with the chance to fund innovative projects that can inspire change in areas such as transportation, open spaces, housing, and other innovative projects to improve the community and make Wyoming's counties, cities, towns and rural areas better places to live for all Wyomingites.

To learn more about the work being funded by the AARP Community Challenge grant program both here in Wyoming as well as across the nation, visit us at aarp.org/CommunityChallenge. And to learn more about how AARP is working to make communities across Wyoming and across the U.S. more livable for all residents, visit aarp.org/livable.
# # #

About AARP

AARP is the nation's largest nonprofit, nonpartisan organization dedicated to empowering Americans 50 and older to choose how they live as they age. With nearly 38 million members and offices in every state, the District of Columbia, Puerto Rico, and the U.S. Virgin Islands, AARP works to strengthen communities and advocate for what matters most to families with a focus on health security, financial stability and personal fulfillment. AARP also works for individuals in the marketplace by sparking new solutions and allowing carefully chosen, high-quality products and services to carry the AARP name. As a trusted source for news and information, AARP produces the world's largest circulation publications, AARP The Magazine and AARP Bulletin. To learn more, visit www.aarp.org or follow @AARP and @AARPadvocates on social media.