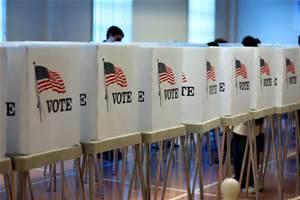 Wyomingites age 45 and over are overwhelmingly looking for their political candidates that will help expand long term care options. That is according to the latest Vital Voices Survey of 700 Wyomingites, age 45 and over performed by AARP.

When researchers asked Wyomingites if they would be more or less likely to vote for a candidate in Wyoming who advocated for a specific position, 84% said they would be more likely to vote for a candidate advocating expanding access to quality, affordable long-term care for the elderly from home care to nursing home.

That was the highest-ranking category reported by the survey, ranking higher than protecting residents from scams and fraud (83%); increased opportunities for Medicare savings (81%); lower property taxes (80%); and increased access to affordable housing (72%).

Respondents also told surveyors that caring for a loved one (88%) or aging in place (87%) remain extremely or very important. Having enough services so people who want to can remain in their homes as they age (84%), getting to the places you need to go independently (84%), and having high-quality long-term care in your community (81%) also scored very high among those surveyed.

Economic and Financial Issues
Wyomingites seem to be more concerned about the economy than they were in 2020, according to the survey, which saw large increases in the number of older Wyomingites who are concerned with being able to afford groceries or other household necessities (93% found it extremely or very important, compared to 89% in 2020); having enough income or savings to retire (92%), having affordable utilities (89%, up from 83% in 2020); having adequate social security (89%), and protecting yourself against consumer fraud (85% up from 78% in 2020).

"Concerns around inflation and utility increases seem to be powering greater concern about paying for the basic costs of living," says Shumway. "We also noted a very large increase in the area of fraud prevention. People seem genuinely concerned with the number of scammers trying to get into their wallets and for the first time that we have seen in Wyoming, there is an appetite for lawmakers to do something about it."

Healthcare Findings
Wyomingites showed to have very strong feelings about healthcare. Staying mentally sharp was far and away the most important healthcare issue for those surveyed, as 95% said staying mentally sharp was either extremely or very important to them. Staying physically healthy was extremely or very important to 91% of those surveyed,

Affordable healthcare close to home was also on the minds of survey respondents, perhaps best illustrated by the fact 89% of those surveyed felt it was extremely or very important to be able to afford healthcare expenses, including premiums and copays. Other healthcare findings from survey include:

88% of those surveyed felt it was extremely or very important to afford adequate health insurance coverage.
88% of those surveyed felt having health care services in their community, as well as access to high-quality hospital care was extremely or very important.
88% felt having Medicare benefits available in the future were extremely or very important.
85% felt being able to pay for prescription drugs was extremely or very important. That was a 10% increase over 2020 numbers.
Property Tax
Wyomingites age 45+ show mixed levels of concern around the ability to afford property tax, based on the AARP survey.

41% of those surveyed are not very or not concerned at all when it comes to being able to afford property tax over the next five years.
36% of those surveyed are extremely or very concerned;
21% are somewhat concerned.
Other findings of note from the Vital Voices Survey include:

Voting


46% of those surveyed prefer to vote at their polling place;
19% prefer voting by mail
12% prefer voting early at a voting site
55% believe voting is extremely accessible in Wyoming
34% believe voting is very accessible;
1% believe voting is not too accessible or not accessible at all.

Long Term Care Costs


When asked if long-term care is covered by Medicare, 37% of those contacted believed long-term care was covered.
Another 36% said they were not sure if Medicare covered long-term care and 27% thought long-term care was covered by Medicare.

Internet Usage


15% of those surveyed listed quality of internet access as a factor in limiting their home use of the internet.
8% listed cost of internet access.
25% of those surveyed had asked a child or grandchild for help in using the internet.
23% contacted a service provider for help.

Veterans


92% of Wyoming residents age 45 and over had at least a very favorable opinion of US Military Veterans.
About the Vital Voices Survey
AARP Vital Voices Research enables AARP state offices to gauge local opinions on a range of topics through regular surveys. Offered every three years, the surveys are a collaborative effort between AARP researchers and state office staff. The timing of the online phone surveys, along with the content, is customized to reflect the needs of each state.

AARP engaged ANR Market Research Consultants to reach out to Wyomingites to perform the Vital Voices Survey among Wyoming adults age 45 and over. The calls were made in June and July of 2023 with those responding offering a mix of landline, cell phone, online, and text-to-web methodology.

About those surveyed:

93% of those called voted in November 2022 election
51% female
66% married; 12% widowed
48% consider themselves conservative; 31% moderate; 12% liberal
58% are Republican; 19% independent; 16% Democrat
19% have a household income between $50-75K; 16% were between $25-50K; 14% between $75-100K; 14% between $100-150K
77% have a smartphone
15% had served in the military; 47% had a family member who had
44% were retired; 26% working full-time; 12% self-employed working full time
21% were ages 60-64; 15% were 50-54; 14% were 65-60