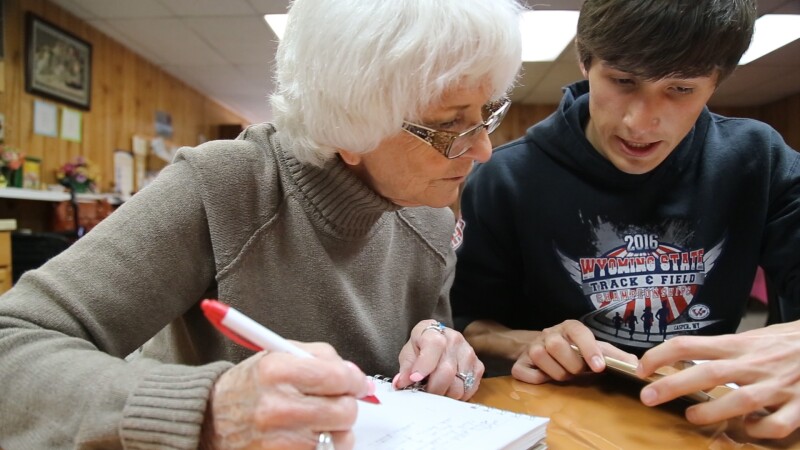 East High School students will bring their tech savvy to the Cheyenne Senior Center (2101 Thomes Ave.) to help the residents better understand how to use their mobile devices from 11 a.m. - noon on Saturday, October 27.
The project, known as Senior Tech High, is a collaboration between AARP Wyoming, the Cheyenne Senior Center, the Cheyenne East High School Interact Club, as well as East High School's ROTC Cyberpatriot Team. Interact Clubs are affiliates of Rotary International, which bring together students ages 12-18 to develop leadership skills, while the Air Force JROTC CyberPatriots are high school students taking part in a nationwide Air Force Association-sponsored computer security competition.
"We are in a tech world and maintaining contact is a part of our life," says Cheyenne Senior Center Director Wendy Moore. "We have upgraded our wireless connectivity at the Senior Center and want to make sure our clients have as much training on the devices they use as we can. We thank the East High students for coming to join us."
The event will kick off with a free lunch, courtesy AARP Wyoming. The meal is open to all ages and serving will begin at 11 a.m.. After lunch, the students will meet with Senior Center clients and take questions on tech in a one-on-one setting. Those attending lunch are encouraged to bring their phones, and tablets.
"We are thrilled at the opportunity to connect our youth with seniors in our community in such a positive manner," says Cheyenne East High School Counselor Angela Schelhaas. "This project capitalizes on youth's natural strengths with technology, while providing a human connection between the generations. We look forward to doing this project throughout the year."
This is the second Senior High Tech project in Wyoming. The first was a series of tech tutorials offered by a group of 10 student council and FBLA members from Lingle-Fort Laramie High School at senior centers in Goshen County. In all, the students were involved in over 100 one-on-one tech tutorials. Their work can be seen here.
The program was a joint venture between AARP Wyoming, Lingle-Fort Laramie High School, and the Torrington Friendship Center. The idea was the brainchild of former AARP Wyoming Executive Council Member Bill Marsh, while the Lingle-Fort Laramie Student Council and Future Business Leaders of America (FBLA) took the idea and ran with it. The FBLA chapter sent out around 100 surveys to clients of the senior centers, which changed the program's direction dramatically.
"We had planned to do classes on Facebook, Facetime and other apps, but when we received the surveys, we found people really just wanted short, troubleshooting sessions," Lingle-Fort Laramie Student Council Sponsor Erin Estes says. "The help people were asking for was more basic than we had anticipated. I think that made it so much easier to implement because our students are digital natives and this comes so naturally to them."