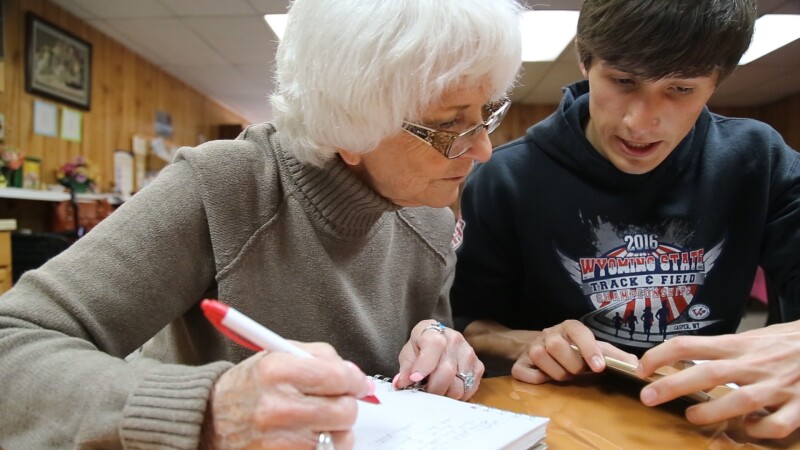 The Paintrock FFA Chapter in Basin, Wyo. will bring its knowledge of cell phones and other mobile devices to the Big Horn Fairgrounds for free one-on-one tutoring on Dec. 15. The event, a collaboration with AARP Wyoming, called Senior High Tech, will run from from 11 a.m. - 1 p.m. in the office building of the Big Horn County Fairgrounds in Basin.

The training is free and there is no requirement to be an AARP member in order to take part in the event. AARP Wyoming will provide refreshments at the event.

This is the third Senior High Tech project in Wyoming involving AARP Wyoming. At each event, a group of students from the local high school provides one-on-one tutoring sessions to those age 50 and over in the community. The first was a series of tech tutorials offered by a group of 10 student council and FBLA members from Lingle-Fort Laramie High School at senior centers in Goshen County. The second took place in Cheyenne in October.

Basin High School FFA Sponsor Ashley Spatz is a former student- teacher at Lingle-Fort Laramie and said she saw the work done by her former students in Goshen County and thought the program would be easy to replicate in Big Horn County. She said there will be 18 students from the Paint Rock FFA at the Fairgrounds on Dec. 15 ready to lend a hand.

"When I saw Lingle, Torrington and Cheyenne doing this I thought about my own grandparents and I wanted to make sure our senior citizens feel supported and are able to do the things that we take for granted," says Spatz. "We are planning on doing more of a one-on-one format so we can tailor what people want and really make sure that we get all their needs figured out."

According to Spatz, the Senior Center in Greybull says it is able and willing to provide rides for clients who want to participate in Senior High Tech at the fairgrounds in Basin.

In past Senior High Tech events high school students have helped citizens with questions such as finding old emails, sending photos to loved ones, or adding apps to a phone. These are typically easy answers to offer and the Fairgrounds building does have WIFi, allowing for work online.

For more information on the event in Basin, contact Spatz at: ashley.spatz@bgh4.k12.wy.us .