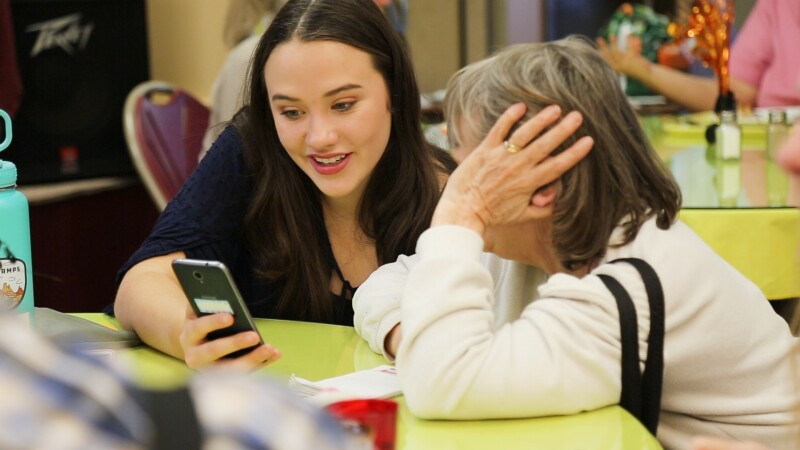 One-on-One Mobile Tutoring on Mobile Devices Available Thanks to Cheyenne Students


Thanks to the efforts of students from Cheyenne East and Triumph High Schools, Laramie County residents can receive free one-on-one tutoring on their cell phones and other mobile devices.

The event, called Senior High Tech, is a collaboration between the two schools, as well as AARP Wyoming and the Laramie County Public Library in Cheyenne, and will take place from 11 a.m. - 1 p.m. in the Cottonwood Room of LCPL on March 16.

The training is free and there is no requirement to be an AARP member in order to take part in the event. In addition to the tech tutoring, a free lasagna dinner, courtesy of the Cheyenne Triumph High School Culinary Arts program, is available free of charge.

Who is Involved
Providing the technical support for the event will be the Interact Clubs from Triumph and East High Schools as well as members of the East High Air Force JROTC (AFJROTC) program. Interact Clubs are affiliates of Rotary International, which bring together students ages 12-18 to develop leadership skills. AFJROTC is a Title 10 US Code mandated citizenship training program that is designed to educate and train high school cadets in citizenship, promote community service, instill personal responsibility, character, and self-discipline.

This is the fourth Senior High Tech project in Wyoming involving AARP Wyoming. At each event, a group of students from the local high school provides one-on-one tutoring sessions to those age 50 and over in the community. During past Senior High Tech events, high school students have helped citizens with questions such as finding old emails, sending photos to loved ones, or adding apps to a phone. These are typically easy answers to offer and the library does have WIFi, allowing for work online.

The first was a series of tech tutorials offered by a group of 10 student council and FBLA members from Lingle-Fort Laramie High School at senior centers in Goshen County. The second took place in Cheyenne in October and the third in Basin, Wyo. in December. March 16 will be the second Senior High Tech program the East High Air Force JROTC has taken part in this year. Sponsor Rod Peoples says it was an easy decision to take part in this event.

"The interaction I saw between the students and seniors during the October event was heartwarming. We need more of this between the generations. Events like this highlight what each can offer the other."

For More Information
Senior centers, or service organizations interested in holding a Senior High Tech in your community can contact Tanya Johnson at: tajohnson@aarp.org.

For more information on the event, contact Tanya Johnson at: tajohnson@aarp.org.