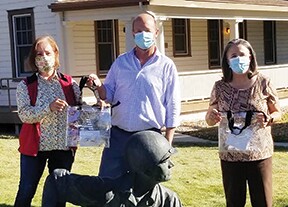 To honor our Veterans, the AARP Sheridan Community Action Team (CAT), in partnership with the Casper Community Action Team, VFW Auxiliary, and the Sheridan Foster Grandparents Program, delivered over 260 thank you cards to Veterans in Sheridan and Johnson Counties in November.

On Veterans Day, the coalition brought 100 thank you cards to patients at the Sheridan VA Hospital, as well as 40 to residents at the Veterans Home in Buffalo, another 15 to residents of the Elmcroft/Sugarland Ridge Assisted Living Center, and 30 to the VFW Auxiliary.

In addition to the thank you notes, each facility received an AARP Military Challenge Coin. Military Challenge Coins are generally given as a token of appreciation and are given through a handshake. Keeping members of the military connected to each other is a long-standing tradition and are a reward for excellent performance. The facilities throughout the great state of Wyoming that serve and care for Veterans are most certainly deserving of such recognition.

Due to safety measures and precautions in place due to the COVID-19 pandemic, the Sheridan Community Action Team volunteers were not able to personally hand out the thank you cards and challenge coins to the Veterans. In some small way, hopefully these cards and coins will remind Wyoming's Veterans that Wyoming is grateful for them and their service.