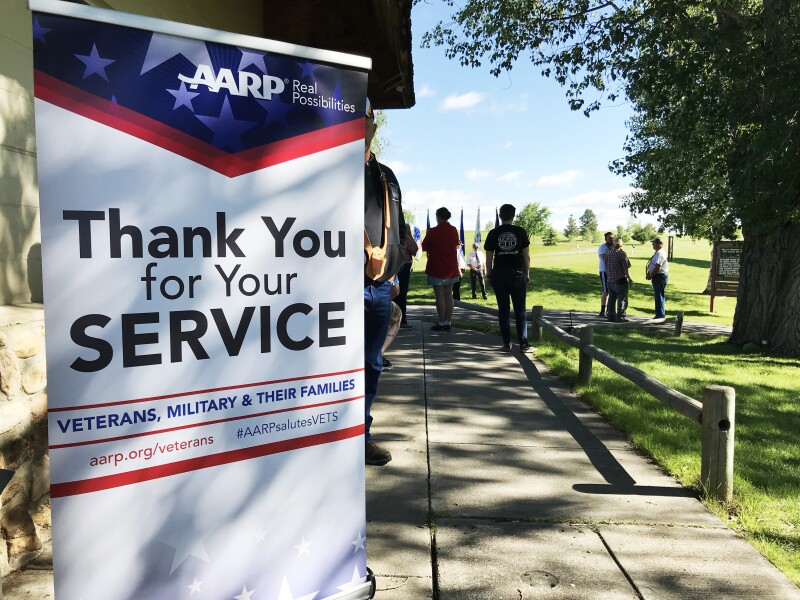 The inaugural Sheridan Veterans Golf Tournament saw 58 participants take to Kendrick Golf Course on June 15.
The tournament was organized by representatives from AARP Wyoming, the Disabled American Veterans (DAV), American Legion, the Sheridan VA Health System, the Veterans of Foreign Wars, and Volunteers of America. The tournament sponsorships made it possible for a number of veterans and active duty military to take part in the tournament.
Teams were broken into four-person teams with most teams including a veteran from either the Sheridan VA Center or active duty members of the military, including one national guardsman who is set to deploy in July. The top-three teams in the 15-team tournament each had a hospitalized veteran on their team.
"When the Veterans arrived, at first, they were all a bit anxious about being put on teams because they had all planned to golf together and stay to themselves," says VA Spokesperson Krista Miller. "After the tournament ended, the Veterans reported that being put onto teams with strangers was the best thing that could have happened. This challenged them all to get outside of their comfort zones, they met new people and made new friends."
The event began with the nation's colors presented by members of the DAV, American Legion, and VFW. That was followed by an invocation by VA Chaplain and the national anthem, sung by Miss Wyoming, Beck Bridger. After a welcome and thank you by the Sheridan Community Chamber of Commerce Ambassadors, golfers hit the links. The first place team members each won a $100 in clubhouse credit with the second and third place team members winning $75 and $50 respectively.
Based on the early returns of this year's event and the support of the community, it seems likely that the event will take place again next year.
"The community really came together for this event," said tournament organizer and AARP Sheridan volunteer Clarence Montano. "The VFW, DAV, and American Legion are already onboard for next year's event and six hole sponsors have committed to participating next year. Our Sheridan Mayor, and Kendrick Golf Course said they would love to be a part of a similar event next year. Even Rocky Mountain Signs has committed to doing banners and hole-sponsor signs next year."