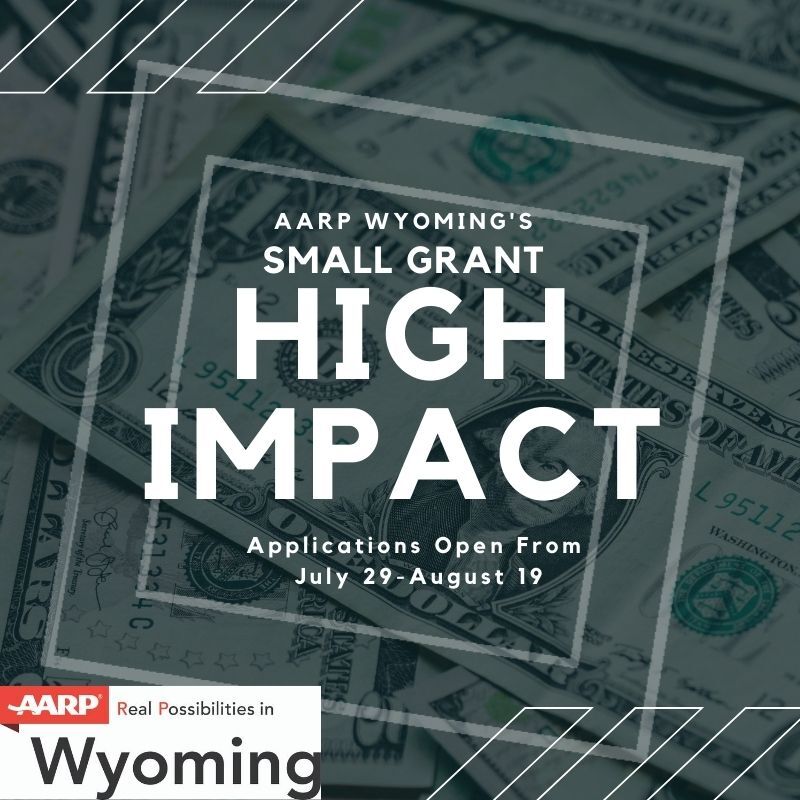 CHEYENNE - AARP Wyoming is offering $1,000 grants to 10 non-profits in the state through its inaugural Small Dollar, Big Impact Grants.

The AARP Wyoming Small Dollar, Big Impact Grants will fund selected initiatives that recognize the assets and opportunities of our aging population with projects aimed at enhancing the livability of communities and helping create a better place for community residents to live, work, and play.

"There are a number of nonprofits and communities who are doing great work in the realm of livable communities," says AARP State Director Sam Shumway. "We know Wyoming leaders can use these grants to push that work forward."

The grant program is open to organizations and grassroots ad hoc groups and involves a very brief online application process. Priority will be given to eligible non-profit organizations and grassroots groups that aim to improve one or more of the following "Eight Domains of Livability," which include:


Outdoor Spaces and Public Places
Transportation
Housing
Social Participation
Respect and Social Inclusion
Work and Civic Engagement
Communication and Information• Community and Health Services
This is a quick turnaround grant program with the application period beginning July 29, 2020, with applications being due Aug. 19. The grants will be announced by Sept. 4.. Awards from the AARP Wyoming Small Dollar, Big Impact Grant program may be used to fund either a portion of an existing project or the entirety of the project submitted to AARP in the Small Dollar, Big Impact Grant application. Grant recipients must complete the project for which the grant was awarded within 90 days of the announcement of the grant award.

The program is open to the following types of entities:


501(C)(3), 501(C)(4) and eligible 501(c)(6) nonprofits (determined on a case-by-case basis)
Government entities
Ad hoc community group with a 501 (c)(3) and 501 (c)(4) nonprofit fiscal agent
Must be located within the State of Wyoming
The following projects are NOT eligible for funding:


Partisan, political or election-related activities
Planning activities and assessments and surveys of communities with follow-up action
Publication of books or reports
Acquisition of land and/or buildings
Sponsorships of other organizations' events or activities
Research and development for a nonprofit endeavor
Research and development for a for-profit endeavor
The promotion of a for-profit entity and/or its products and services
The SDBI Grant application is available online here. 

The Wyoming State Office Staff will review all applications to ensure eligibility and appropriateness. The judging for the grants will be based on a weighted point system for a total of 100 overall points.

For more information on the grant, check out: https://states.aarp.org/wyoming/aarp-wyoming-small-dollar-big-impact-grants.