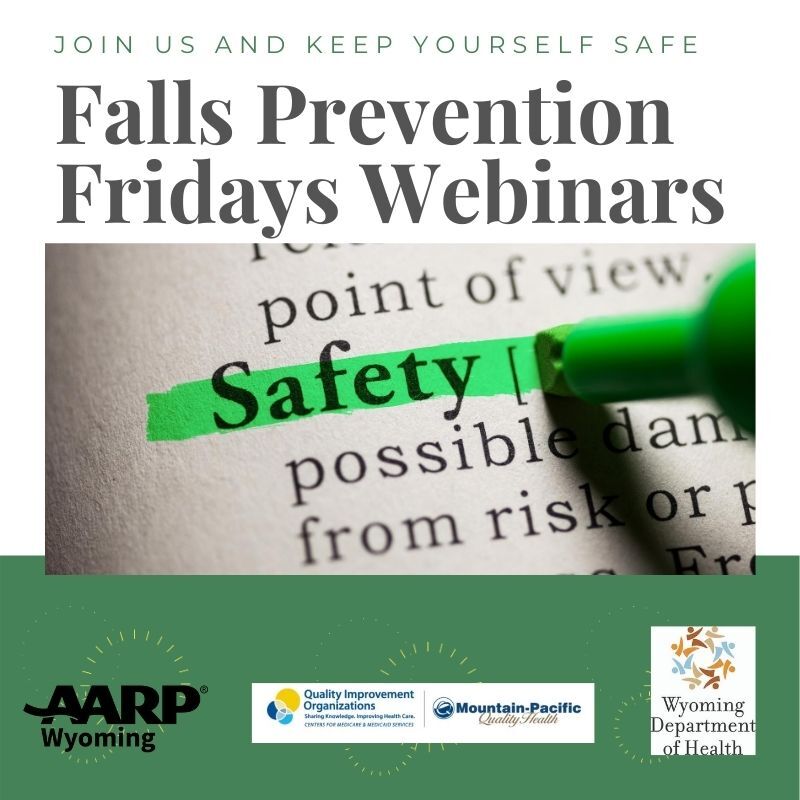 In the month of September, AARP Wyoming, The Wyoming Department of Health, Mountain Pacific Quality Health, and the Wyoming Center on Aging offer a number of videos aimed at helping you stay upright.

The free online video series is called, "Falls Prevention Fridays," and is offered every Friday at 10 a.m. in September. The videos can be seen on AARP Wyoming's Facebook page, or by clicking the links below.


In Wyoming, falls and fall-related injuries are the leading cause of unintentional injury-related hospitalizations and the third leading cause of unintentional deaths. According to the National Council on Aging, every fourteen seconds an older adult is seen in an emergency department for a fall-related injury, and one in three older adults fall each year.

As of September 15, there are two webinars to be shown at 10 a.m. on September 18 and again on September 25. Both are free of charge.

September 18 - Cody Mauldin, PT, DPT, GCS will offer a presentation called Fall Prevention: What you need to know. Common questions, risks and available resources - Mauldin is a doctor of physical therapy and the director of therapy for CaringEdge in Casper. Mauldin has extensive training in the area of falls prevention and restorative strengthening. His presentation will help citizens assess and identify if someone should consider themselves an increased fall risk; as well as common fall risk scenarios and how to prevent them.

September 25 - Bernard Steinman, PhD - Steinman is a gerontologist and an assistant professor of human development and family studies at the University of Wyoming. His interests include building communities that are highly livable for older adults and persons with disabilities.

Dr. Steinman's research focuses on relationships between the environment, health outcomes and inclusion of older adults in safe communities. Dr. Steinman also serves as a subject matter expert, instructor, and research consultant for Homemods.org, housed at the Fall Prevention Center of Excellence at the University of Southern California.

For more information on the state's injury prevention work, contact Jeff Grant at the Wyoming Department of Health. He can be reached by emailing jeff.grant@wyo.gov or 307-777-2424.