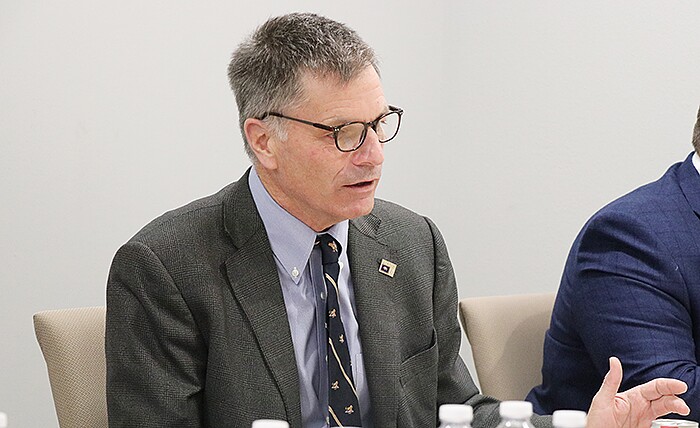 Wyoming Governor Mark Gordon will be the guest during an AARP Wyoming TeleTown Hall at 4 p.m. on Friday, Feb. 25.

AARP will call out to a number of its members, starting at 3:55 p.m. on Friday, Feb. 25. If you are an AARP Wyoming member and do not receive a call, but would like to take part in the call, feel free to listen in through AARP Wyoming's Facebook page at: facebook.com/aarpwy.

"For years now, we've been joined by Wyoming's Governors for Teletown Halls as a way for our members to communicate directly with the state's chief executive," says AARP Wyoming State Director Sam Shumway. "Governor Gordon has joined us several times in his first term and we appreciate his knowledge, candor, and compassion for Wyoming's older adults."

According to the Governor's official website, Mark Gordon was elected Wyoming's 33rd Governor, on Nov. 6, 2018. He was sworn into office on January 7, 2019. Gordon grew up on the family ranch in Wyoming where he learned the values of hard work and integrity and the importance of working together.

Gordon is committed to making government more transparent, accessible, productive and efficient. He believes government is best when it is closest to the people, and is committed to giving local communities the tools they need to thrive. He is a staunch advocate of quality education for all children from bottom to top, K-12 through all forms of post-secondary education, private and public.

Governor Gordon served as Wyoming State Treasurer from October 2012 until January 2019 when he was sworn in as Governor. He was ranked 57th among the Sovereign Wealth Fund institute's "most significant and impactful public investor executives" in 2013. During his time in office, he transformed and modernized the management of the state's financial portfolio, leading in 2016 to Wyoming earning the No. 1 ranking in the United States and No. 3 in the world among all sovereign funds by the Peterson Institute.

Governor Gordon and his wife Jennie have four grown children – Anne; Aaron with wife Megan; Bea with husband Austen; and Spencer with wife Sarah, their son Everett, and their recent additions of twin daughters Violet and Eloise.