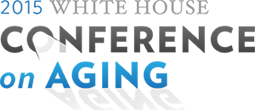 Mark your calendar for the 2015 White House Conference on Aging Watch Party hosted by AARP Kentucky and the UofL Institute for Sustainable Health and Optimal Aging.

The 2015 White House Conference on Aging builds on a year-long effort to listen, learn, and share with older adults, families, caregivers, advocates, community leaders, and experts in the aging field. The 2015 Conference aims to embrace the transformative demographic shift occurring in the United States and recognize the possibilities of aging.

The first baby boomers reached retirement age in 2011, accelerating a population surge in the number of Americans over the age of 65. Each day for the next 15 years, thousands more will reach retirement age, creating new opportunities for how we define what it means to be an older American. The conference will bring together older Americans, caregivers, government officials, members of the public, business leaders, and community leaders to discuss a vision for aging in the next decade. Kentucky's very own AARP volunteer Charles Williams will be in the audience at the WHCOA event representing AARP Kentucky.

The watch party takes place on July 13 th from 9:00 AM-4:00 PM. The time is subject to change -- we will notify you once the official time has been set. It's being held at the UofL School of Medicine Instructional Building, Baxter Auditorium (Lecture Hall), Room B215, 500 S. Preston St., Louisville, KY 40202

UofL Parking Map

Lunch and light refreshments will be served.

If you can't make it in person, you can catch it online .

For questions and to RSVP, contact Ann Burke at optimalaging@louisville.edu or (502) 852-5629.