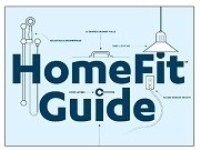 By Jennifer Wallace-Brodeur

What if all homes could be suitable for anyone, regardless of a person's age or physical ability?

What if a person who wants to live independently, regardless of his or her age or physical ability, could do just that?

The new AARP HomeFit Guide features lots of ways to make your home comfortable, safe and a great fit for people of all ages.

Here are 10 simple solutions to get you started:

1. Clear exterior pathways of uneven pavement, loose bricks, leaves, moss or mold, all of which can become slipping hazards.

2. Make sure your address numbers are visible from the street so emergency responders and mail carriers can easily locate your home.

3. Place an ABC-rated fire extinguisher in the kitchen, ideally in an easy-to-reach location near the stove.

4. Create a seated work area in the kitchen by using a table, installing a pull-out work surface or by removing a lower cabinet's door and shelves.

5. Install handrails on both sides of stairways to make going up or down the steps safer for all users.

6. Plug automatic night-lights into outlets near stairs and along hallways and in bathrooms that are used after dark.

7. Prevent tripping hazards by placing electrical and phone cords out of the way and securing area rugs to the floor with double-sided tape or nonslip mats.

8. Install smoke and carbon monoxide detectors on every level of the home — and be sure the alarms can be heard from every bedroom.

9. Use lever-style door handles rather than round handles, which can be difficult for people with arthritis (or already full hands) to grasp.

10. Install a hand-held or adjustable shower head that can be raised or lowered to accommodate the height and ability of every user.

You can find more solutions, "use this, not that" information and customizable worksheets by reading, downloading or ordering a free copy of the AARP HomeFit Guide at aarp.org/homefit.

###
Jennifer Wallace-Brodeur is co-leader of the Livable Communities team at AARP, which is helping towns, cities and counties nationwide become more livable for people of all ages. Learn more about livable communities by visiting www.aarp.org/livable . To reach Jennifer or the AARP Livable Communities team, email livable@aarp.org .