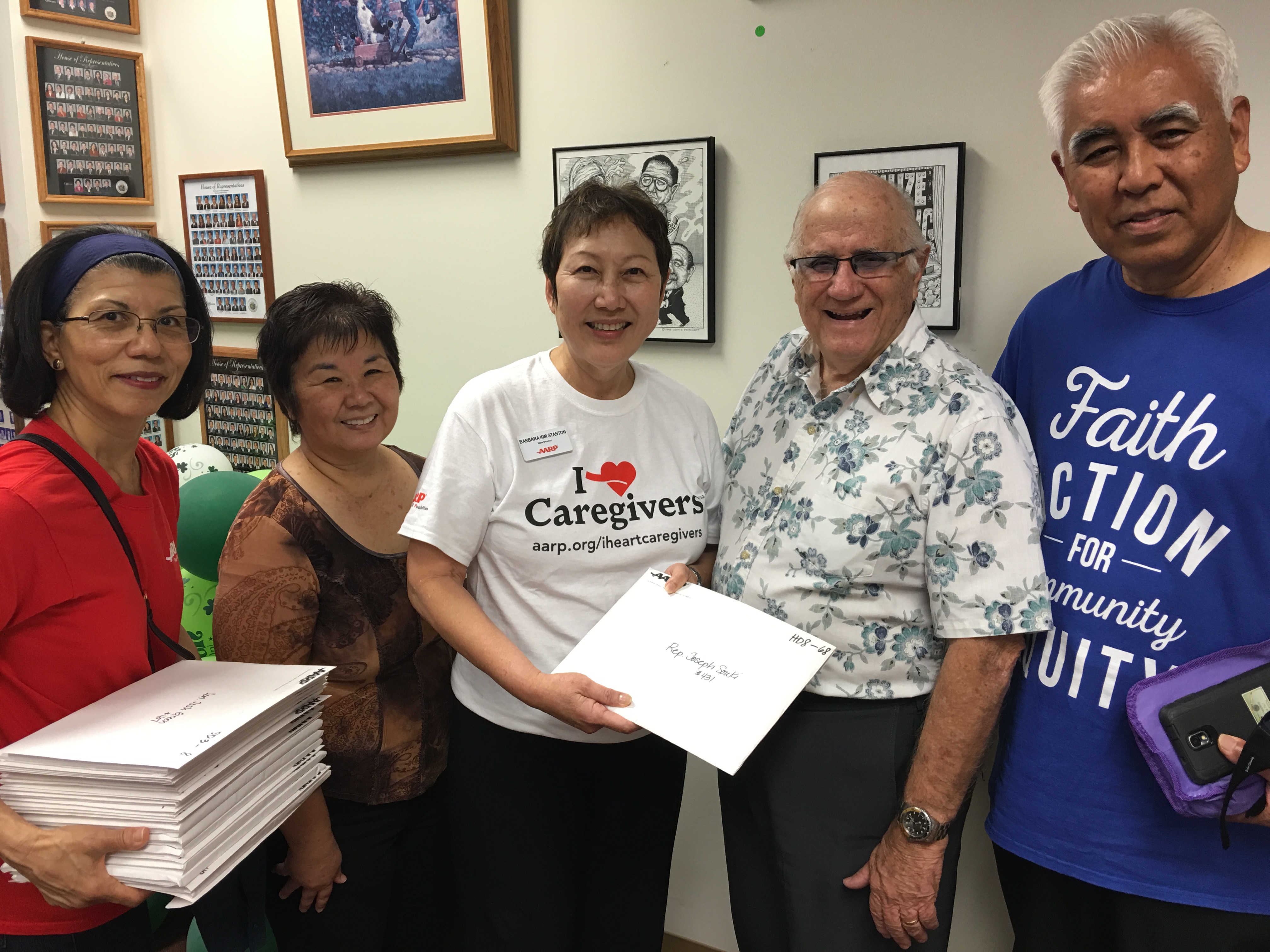 Advocates today delivered to legislators nearly 1,400 petitions in support of the CARE Act, as the House prepares to vote on a bill that would pave the way for greater involvement of caregivers in hospital discharge planning. HB 2252 HD1 SD2 would require hospitals to establish procedures giving family caregivers the opportunity to receive instruction in medical tasks required when patients go home.

The Hawaii CARE Act Coalition is urging members of the House to accept the Senate version of HB 2252. The Coalition, which includes 21 organizations including AARP, has worked since 2014 to advance the Caregiver Advise, Record, Enable (CARE) Act in the state legislature. The CARE Act is a commonsense, no-cost solution that will support Hawaii's 154,000 family caregivers and the loved ones they help to stay at home, and out of costly, taxpayer-funded institutional care.

"AARP joins members of the Hawaii CARE Act Coalition in thanking legislators for supporting family caregivers in the current session," said AARP Hawaii State Director Barbara Kim Stanton. "The sooner the CARE Act becomes law in Hawaii, the better we'll be able to help friends and family members who ensure that loved ones are able to live at home, with greater independence, for as long as possible."

The CARE Act would help thousands of family caregivers like Lahaina resident Montella Lopez, for whom caregiving became a full-time responsibility as her mother's health declined. Suffering from serious chronic illnesses in the final years of her life, she was in and out of the hospital six times. Each time her mother was discharged, Lopez says there was little or no instruction provided on how to care for her at home. "It would have made my role as Mom's caregiver so much easier and less stressful if the hospital just took a few minutes to explain how Mom and I should take care of her, and avoid things that slowed her recovery," says Lopez.

As the state's population ages, unpaid caregivers are under increasing pressure to care for loved ones at home – especially those with chronic conditions who are frequently readmitted. Family caregivers provide increasingly complex care services – including injections, tube feedings, and medication management – to older loved ones at home. Collectively, Hawaii's caregivers provided unpaid care valued at $2.1 billion in 2013 alone.