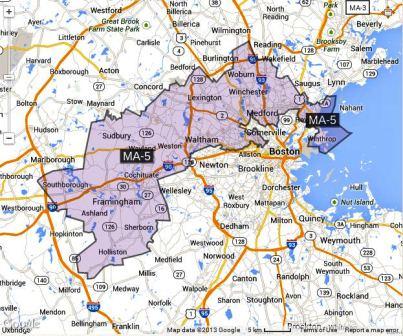 Attention Massachusetts voters in Congressional District 5: It's time to vote (yes, again). We've anticipated some of your questions about the special state primary today, Tuesday, Oct. 15—and subsequent election on Thursday, Dec. 10—and have provided answers below:

Another "special" primary and election? Why?

Today's special state primary—and the special state election in December—have been called to fill the vacancy left in the Fifth Congressional District by then-Congressman Ed Markey. Markey resigned from Congress in July when he was elected to the U.S. Senate; he, in turn, filled the Senate seat vacated by then- Sen. John Kerry, who was sworn in as U.S. Secretary of State in February.

When is this special state primary? And then when's the special state election?

The special state primary election takes place TODAY, TUESDAY, OCT. 15, and will determine the two contenders who'll vie for the seat representing the Fifth Congressional District in Massachusetts during the subsequent election, which takes place on Tuesday, Dec. 10.

How do I know if today's special state primary election includes me?

You'll be voting in today's special state primary election (and the December election) if you live in Congressional District 5, which is comprised of the following communities ( note: cities in which voters from all precincts and/or wards are voting are capitalized): Middlesex County: Arlington, Ashland, Belmont; CAMBRIDGE: Wd. 3, Pct. 2A; Wd. 4, Pcts. 2, 3; Wds. 6, 7, 8, 9; Wd. 10, Pcts. 1, 2; Framingham, Holliston, Lexington, Lincoln , MALDEN, MEDFORD , MELROSE, Natick, Sherborn, Stoneham, Sudbury - Pcts. 1A, 2, 3, 4, 5; WALTHAM, Watertown, Wayland, Weston, Winchester, WOBURN; Suffolk County: REVERE, Winthrop; Worcester County: Southborough.

C'mon, does my vote really matter?

It sure does, especially in Massachusetts. Read what Secretary of the Commonwealth Bill Galvin says about four times in the state's history that ONE vote tipped the scales.

Who are the candidates * ?

Democrats:

State Sen. Will Brownsberger, D-Belmont
State Sen. Katherine Clark, D-Melrose
Middlesex County Sheriff Peter Koutoujian, D-Waltham
Martin Long, D-Arlington
Paul John Maisano, D-Stoneham
State Rep. Carl Sciortino, D-Medford
State Sen. Karen Spilka, D-Ashland
Republicans

Frank John Addivinola, Jr., R-Boston
Michael P. Stopa, R-Holliston
Tom Tierney, R-Framingham
* These are the candidates whose names appear on the special state primary election ballot, according to the state Elections Division.

When are the polls open and where do I vote?

Polls are open for both the special state primary and election from 7 a.m. until 8 p.m. If you're not sure where to vote for either, check this polling information from the state's Elections Division.

Why is it important for me to vote in this special primary, and then in the special election?

For Massachusetts residents age 50+ there's a lot at stake in this Congressional primary and election. Recognizing the importance of aging issues will be key for this elected Congressperson, and we need your help to make sure he/she fights to keep programs like Social Security and Medicare intact for you.

For over 25 years, non-partisan voter engagement has been a core part of AARP's mission. We do not have a Political Action Committee, nor do we endorse candidates or contribute to their campaigns. We do:

Encourage our members and the general public to exercise their constitutional right to vote;
Inform candidates on the issues that matter most to AARP members, so these issues become part of the debate; and
Provide AARP members and the voting public the candidates' positions on issues that matter to Americans age 50+ so they can choose candidates that best represent their views and values.