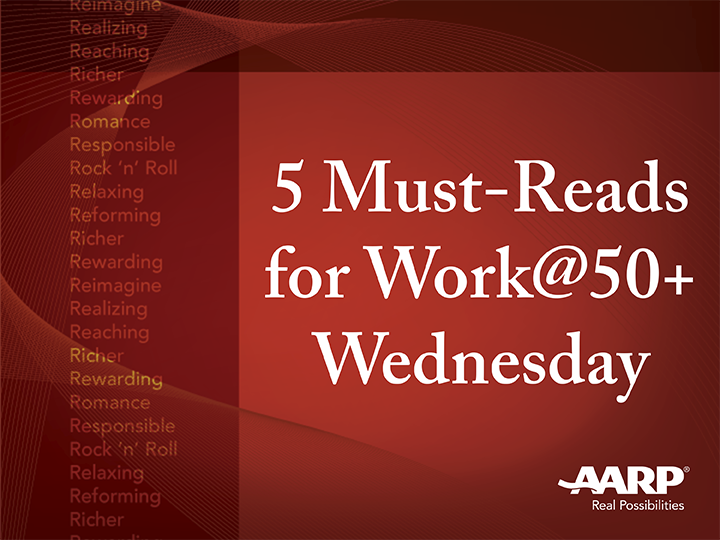 Happy Work@50+ Wednesday, everyone!

You know we're looking out for you. We read everything we can find on job hunting, entrepreneurship, and tools and resources for mature workers and share the latest and greatest with you, here, on Twitter, and Facebook.

We have 5 must-reads for you this week spanning technology, startup funding, ageism, and job hunting. Whether you're looking for work, considering entrepreneurship, or even if you're interested in one of our local events, this edition our bi-weekly series has something just for you!



Are you using social media and your smartphone for your job search? If not, you're missing out on opportunities. Richard Eisenberg explains how – and why – you have to take advantage of today's technology to tap into the job market. "You've undoubtedly read and heard how hard it is to find a job when you're over 50. It's undeniable. But what's also true is that many of these job hunters are sabotaging themselves. They're not exploiting their social networks or using their smartphones in ways that could help them learn about, and apply for, jobs."




A major stumbling block for many budding entrepreneurs is getting the capital needed to start a business. Kerry Hannon shares 11 (yes, 11!) places to find the money you need to fund a startup, including economic development firms, corporate programs, and crowdfunding sites. "If you're in decent financial shape with no debt or very little beyond a mortgage, you have myriad options for funding your startup."




Optimism can be a good thing, but when you're searching for work, it's also important to be realistic. On Next Avenue, Jayne Mattson outlines four scenarios that can give job seekers a false sense of security, and how to turn each one around for a better way to find a job.




Ageism in the job market is a serious issue. The good news, according to Life Reimagined for Work? It's far less prevalent in small businesses. While compensation may not be as competitive as in larger organizations, small businesses tend to value experience and maturity – traits that our demographic bring to the table in spades. "Although neither the Bureau of Labor Statistics nor Small Business Administration tracks the demographics of small business hiring, midlifers at small companies say they face less discrimination than at larger organizations."




Finally, we'd be remiss if we didn't remind you about our National Encore Entrepreneur Month event with the SBA this Saturday in Whittier. Hear from experts on finding funding and using technology to expand your business, plus network with presenters and fellow attendees at this free event. RSVP today!

Do you have a blog or article you'd like us to share? Post it on Twitter using #Workat50Plus and we'll check it out!

Today's post is the most recent in our Work@50+ Wednesday bi-weekly series. Follow us on Facebook and Twitter to keep up to date on the latest in the series, as well as our events throughout the state. On Twitter, check out #workat50plus for the latest research and articles on the topic.